Exclusive
WORLD EXCLUSIVE: Oksana Grigorieva's Son Was Star Witness Before Mel Cut Deal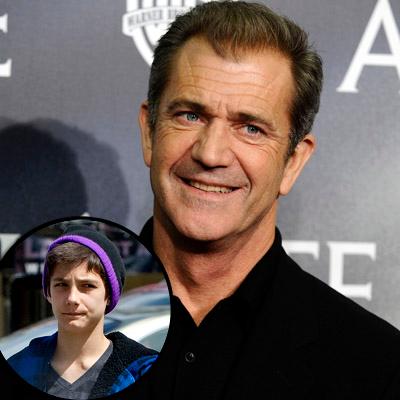 Alexander "Sasha" Dalton, Oksana Grigorieva's 13-year-old son with James Bond star Timothy Dalton, was going to testify in the criminal case against Mel Gibson and considered the star witness before Gibson cut a deal on Wednesday, RadarOnline.com has exclusively learned.
"One major reason why this case was being brought against Mel Gibson, more than a year after the alleged incident took place, is because Sasha was made available to testify at a potential criminal trial against Mel," a source close to the case told RadarOnline.com. "Sasha's involvement and cooperation in the case was absolutely essential, and because he is a minor, both of his parents had to agree to let him participate, and that took some time to make happen."
Article continues below advertisement
Mel cut a deal with prosecutors on Wednesday in the case stemming from his violent encounter with Oksana on January 6, 2010 at his Malibu mansion.
Sasha was in the bedroom as an eyewitness when Oksana says that Mel punched her in the head, cracking the veneers on her upper front teeth. She also says Mel put his arm across her throat while she was holding their infant daughter.
The criminal case took a long time to investigate, the insider told RadarOnline.com, because the incident wasn't immediately reported to authorities, and Grigorieva is battling Mel in family court.
"The case most likely wouldn't have been filed against Mel had Sasha not been made available to the investigators, and assurances from Oksana and Dalton that if the case goes to trial, Sasha will testify," the source told RadarOnline.com. "Sasha was there on January 6, 2010 -- the day that Mel has admitted to getting physical with Oksana during a very heated argument."
Grigorieva, 41, claims Gibson, 55, punched her in the face twice during a fight, leaving her with a concussion, and knocking out veneers on her two upper front teeth. While Gibson hasn't denied a conflict occurred, he's described it through his lawyer as a loud argument and in a declaration described getting physical with her to control her and calm her so she would not hurt their daughter Lucia.
Article continues below advertisement
Now he's cut a deal with the District Attorney, sources confirm to RadarOnline.com.
The source said Sasha is a "very soft-spoken, but an incredibly brave and smart" boy, who committed to testifying in the case against Gibson.
"Oksana and Tim are fiercely protective of Sasha, and they know the media glare that this will bring ... however, it doesn't negate the fact that Sasha is a key witness in the case," the source said.
According to the source, the holdout in Sasha giving testimony had been Dalton, who "was very concerned about the toll this could take on his son."
Sasha's recollection of events from that day has "never changed" in multiple interviews with the D.A. and Los Angeles Sheriff's Department investigators, the source said.
Mel's plea deal is a headline-making turn of events in a case that exploded publicly when RadarOnline.com exclusively released a series of tapes of an enraged Gibson ripping Grigorieva with a tirade full of racist, sexist and threatening words.
Article continues below advertisement
Among the low-lights of Mel's diatribes included the Lethal Weapon star telling his baby's mother, "You're an embarrassment to me ... you look like a f------ pig in heat, and if you get raped by a pack of n------, it will be your fault."
Another memorable excerpt include Gibson telling Grigorieva, "I am going to come and burn the f------ house down... but you will b--- me first!"
Outrageous meltdowns have landed The Passion director in hot water before, most notably during his infamous 2006 drunken driving arrest in his hometown Malibu, in which he allegedly said, "F------ Jews ... the Jews are responsible for all the wars in the world," before turning to a female officer and saying, "What do you think you're looking at, sugar t---?"