Inside The Dungeon Where Four Mentally Challenged Adults Were Chained Like Dogs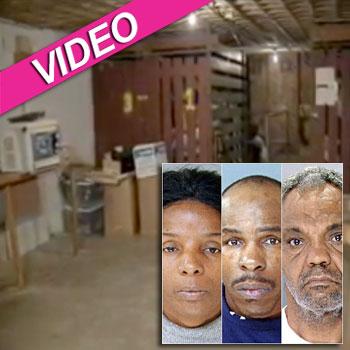 The ramshackle cellar looks like it's been decorated for Halloween but the grimy room is actually a real life house of horrors where four mentally challenged people were chained-up and starved, and RadarOnline.com has the grisly photos.
Phildelphia police searched the converted movie house in the Tacony neighborhood of the city on Saturday and discovered the captives chained up and lying in their own filth in a 10-by-15-foot boiler room, which contained bathroom buckets but no food and didn't have ventilation or sunlight.
Article continues below advertisement
As RadarOnline.com previously reported, suspects Linda Ann Weston, 51, Eddie Wright, 49, and Thomas Gregory, 47, are now facing a string of charges including criminal conspiracy, aggravated assault, kidnapping, criminal trespass, unlawful restraint and false imprisonment after three men and a woman were found chained in a Tacony, Pennsylvania house.
The torturous trio allegedly kidnapped their victims so that they could cash in their social security checks and then kept them like chained dogs in the makeshift dungeon in the house where Weston's son and daughter had an apartment.
The squalid conditions of the dank basement aren't fit for an animal to live in, never mind humans, as video footage, that you can watch below, reveals.
The cold stone walls are covered with water stains from the exposed pipes, while the bare floor offered no comfort to the people who it is alleged were forced to sleep in the damp since October 3.
The underground cavern beneath the run-down residential apartments is strewn with trash, including red party cups, an empty mayonnaise jar and soiled bedding and dirty clothes.
Article continues below advertisement
The building's landlord was the first to find the unfortunate victims when he became suspicious after noticing an unusual amount of trash near the basement, as previously reported by RadarOnline.com.
When he went to investigate, Turgut Gozleveli said: "There were two little dogs and blankets. And from the blankets, people's faces just started coming up."
According to Gozleveli, all four were so severely mentally challenged, "they did not know what world they were living in. "It was terrible," he said. "Something I never expected to see in my life."
One of malnourished three men and one woman is from Norfolk, Virginia and has been missing for three years, reported WAVY.com.
The family of 40-year-old Herbert Knowles are relieved that he has been found, but disgusted that he was far from safe and sound in the years since he disappeared.
"The way they describe him, as if he was some kind of animal," revealed his niece, Tiffany Davis. "You got him chained in the basement. All the lights are out. There are buckets for him to use the bathroom."
Article continues below advertisement
Knowles' family said that the last they heard of him he had moved in with a girlfriend and her mother, Linda Weston, who it is now suspected went on the hold him captive.
As the alleged ringleader in the case, Weston has a string of sinister prior offenses that include a 1981 conviction for starving a man to death in the closet of her house after he refused to support her sister's unborn child.
Weston, along with her boyfriend, Gregory, and Wright, a homeless man who neighbors said called himself a reverend, are thought to have fled north from Palm Beach, Florida, to escape the authorities there before being eventually captured. They did the long drive in a SUV with the four alleged victims held in the back.