Suspects Who Chained Four Mentally Challenged Adults In A Basement May Have 50 More Victims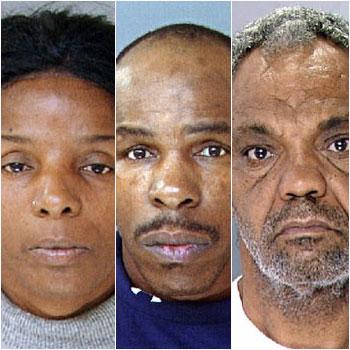 A Philadelphia woman accused of locking four mentally challenged adults in her basement so she could steal their social security checks may have committed similar heinous crimes before, RadarOnline.com has learned.
Linda Ann Weston was arrested along with two accomplices on Saturday night and now police have discovered documents belonging to up to 50 other potential victims in Florida, Virginia and Texas, ABCNews.com reported.
Article continues below advertisement
The 51-year-old and her alleged co-conspirators, Eddie Wright, 49, and Thomas Gregory, 47, are facing a string of charges including criminal conspiracy, aggravated assault, kidnapping, criminal trespass, unlawful restraint and false imprisonment after three men and a woman were found chained in a Tacony, Pennsylvania house.
According to Lieutenant Roy Evers of the Philadelphia police, the sinister trio are now suspected of carrying out a "widespread fraud scheme" following the discovery of drivers licenses, Social Security cards and even power of attorney forms filled out to allow Weston access to the victims' money.
Investigators are now trying to find the owners of the I.D.s, although they do not think there are more victims still held captive, Evers explained, "but we have to make sure everyone is safe."
As the alleged ringleader in the case, Weston has a string of sinister prior offenses that include a 1981 conviction for starving a man to death in the closet of her house after he refused to support her sister's unborn child, reported the Philadelphia Inquirer.
Article continues below advertisement
She was charged with beating the 25-year-old man with a hammer and a broomstick, then tying him up in the cupboard and feeding him only three meals over two months, before stuffing his dead body in a plastic bag and dumping it at an abandoned house.
Weston served eight years in prison for her cold-hearted crime but is far from rehabilitated it appears.
Her latest alleged act of brutality came to light after the landlord of the apartment noticed an unusual amount of trash and had spotted odd comings and goings to the basement.
When he went to investigate, Turgut Gozleveli said: "There were two little dogs and blankets. And from the blankets, people's faces just started coming up."
The malnourished adults were lying in their own filth in the 10-by-15-foot room, which contained bathroom buckets but no food. One man's left ankle was chained to a boiler pipe.
According to Gozleveli, all four were so severely mentally challenged, "they did not know what world they were living in."
Article continues below advertisement
"It was terrible," he said. "Something I never expected to see in my life."
The captives are thought to have been brought to Philadelphia on October 3 and one man from Texas may have been kidnapped for over a year. The woman has been reported missing since 2005.
The converted movie house that turned into their dungeon is home to Weston's son and daughter, who are cooperating with police.
Weston, along with her boyfriend, Gregory, and Wright, a homeless man who neighbors said called himself a reverend, are thought to have fled north from Palm Beach, Florida, to escape the authorities there before being eventually captured. They did the long drive in a SUV with the four alleged victims held in the back.