Jaycee Dugard's First TV Interview: 'You Just Do What You Have To Do To Survive'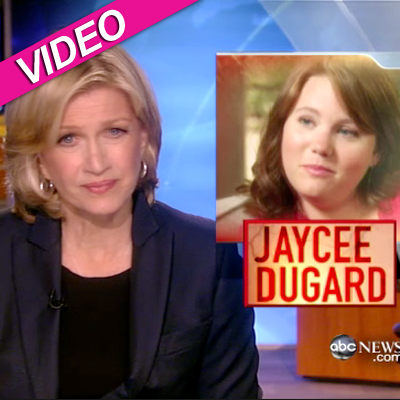 By Adam S. Levy - RadarOnline.com Staff Writer
In her first-ever TV interview, Jaycee Dugard tells ABC's Diane Sawyer what it was like to give birth at just 14-years-old in the Antioch, California backyard of Phillip Garrido, the convicted rapist who'd kidnapped her three years earlier.
The soft-spoken Dugard, sporting brown hair and clad in a ruffled pink shirt, told Sawyer about the birth of Starlite, her first daughter with her captor Garrido. (She'd give birth to their second daughter Angel four years later.)
Article continues below advertisement
Dugard said that giving birth was "very painful ... but then I saw her.
"She was ... beautiful ... I felt like I wasn't alone anymore," the 31-year-old survivor told Sawyer. "I had somebody that was mine ... I wasn't alone.
"And I knew I couldn't let anything happen to her. I don't know how I was going to do that, but I did."
Asked how she survived 18 years of hell, Dugard softly replied, "I don't know; I can't imagine being beaten to death, but you can't imagine being kidnapped and raped.
"You just do what you have to do to survive."
Also featured in the ABC exclusive is Jaycee's mother, Terry Probyn, who apologizes to her daughter for not giving her a kiss goodbye on the fateful day she was kidnapped.
Watch the video on RadarOnline.com
"I'd been late to work three Monday mornings in a row and I was focused on myself, trying to get myself out that door, so I wouldn't be late to work," Probyn said. "I chose not to go and kiss my girls goodbye that morning ... I wanted to be on time."
Article continues below advertisement
Gentle Jaycee reassured her mother, telling her, "How could you have known I'd be kidnapped mom? You cant beat yourself up about that.
Probyn told viewers hers makes for "a good lesson: Take a moment out for your kids."
The two-hour special on ABC this Sunday at 9/8c, while Jaycee's memoir A Stolen Life hits stores July 12.