Michelle Williams Channels Dior At My Week With Marilyn Premiere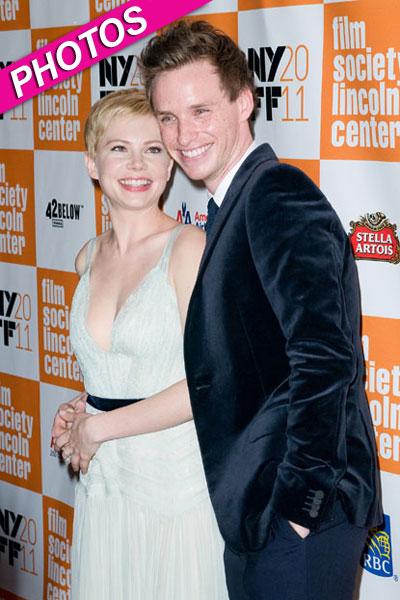 For the premiere of My Week With Marilyn at the 49th Annual New York Film Festival on Sunday it was only natural that star Michelle Williams would honor another 50s icon, Christian Dior, and RadarOnline.com has all the stunning photos from the glamorous night.
The actress, who plays Marilyn in the film that focuses on her troubled time while filming 1957′s The Prince and the Showgirl opposite Laurence Olivier, was an ethereal sight in a flowing nude gown at the Dior prescreening cocktail party at the Hudson Hotel in Manhattan.
Article continues below advertisement
Harvey Weinstein, Zac Posen, Coco Rochas and Gina Gershon all joined Williams to celebrate the biggest film of her career, which is executive produced by Bob and Harvey Weinstein and directed by Simon Curtis.
"Luckily, I never approached the role thinking about other people's expectations, only now am I thinking about that," the actress said at the star-filled party, reported WWD.com.
"We all know her from the iconography but what I was after was her soul," she explained, adding that, "The breathy quality that she had in her voice was a device that she had to cover up a stutter."
English director Curtis revealed that he actively fought for his part in the film's creation. "The project didn't land in my lap. I tugged it into my lap," he confessed.
Following the fabulously fashionable cocktail party, guests moved on to the Alice Tully Hall at New York's Lincoln Center to watch the premiere.
As RadarOnline.com previously reported, Williams immersed herself into everything Marilyn before shooting began.
MORE ON:
Michelle Williams
Article continues below advertisement
"I'd go to bed every night with a stack of books next to me. And I'd fall asleep to movies of her," she told Vogue magazine.
One of the hardest things for the slim star was gaining weight for the role of the curvaceous Hollywood goddess, and she ultimately had to bulk-up with the help of foam padding.
"Unfortunately, it went right to my face," revealed Michelle, who stars opposite Kenneth Branagh, Eddie Redmayne and Julia Ormond. "So at some point it became a question of, 'Do I want my face to look like Marilyn Monroe's or my hips?'