Michelle Williams Pays Tribute To Marilyn Monroe On Vogue Cover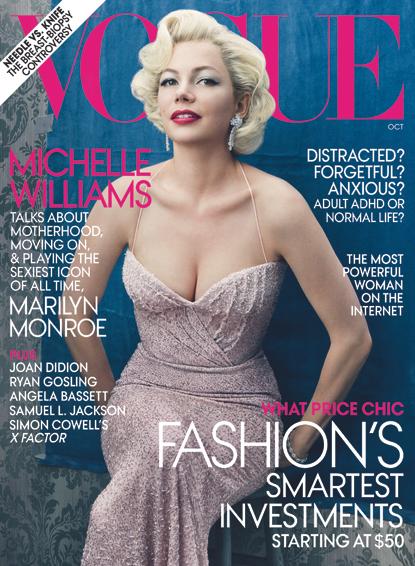 Soon to be playing screen icon Marilyn Monroe in a biopic of her life, actress Michelle Williams gave Vogue magazine a preview of her stunning transformation.
Shot by acclaimed photographer Annie Leibovitz, Williams bears a startling resemblance to the platinum-haired, ivory-skinned movie star, and RadarOnline.com has photos from the fabulous shoot.
Williams stars in the upcoming film My Week With Marilyn, which focuses on Monroe's troubled time while filming 1957′s The Prince and the Showgirl opposite Laurence Olivier.
Article continues below advertisement
Inside the magazine, the slim star revealed that she spent six months?immersing?herself into all things Marilyn to prepare for the part.
"I'd go to bed every night with a stack of books next to me. And I'd fall asleep to movies of her," she told Vogue.
One of the hardest things for the slim star was gaining weight for the role of the curvaceous Hollywood goddess, and she ultimately had to bulk-up with the help of foam padding.
"Unfortunately, it went right to my face," Michelle revealed. "So at some point it became a question of, 'Do I want my face to look like Marilyn Monroe's or my hips?'?
"It felt like being reborn. It felt like breaking my body and remaking it in her image, learning how she walked and talked and held her head," she went on to say.
While discussing tragic Monroe, who died of an accidental drug overdose, the interview naturally progressed to the topic of Michelle's ex-boyfriend and father of her child, Heath Ledger, who passed away under similar circumstances in 2008.
Article continues below advertisement
"Three years ago, it felt like we didn't have anything, and now my life - our life - has kind of repaired itself," she revealed, when talking about how she and six-year-old daughter Matilda have coped with the tragedy.
"Look, it's not a perfectly operating system - there are holes and dips and electrical storms - but the basics are intact.
"It's changed how I see the world and how I interact on a daily basis. It's changed the parent I am. It's changed the friend I am. It's changed the kind of work that I really want to do. It's become the lens through which I see life - that it's all impermanent," she explained.