Kate Moss is Blooming Gorgeous As She Dishes About Her Wedding To Vogue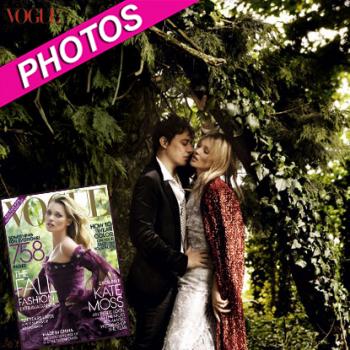 After a rough few years of hard-partying and late nights, Kate Moss is back where she belongs -- gracing the cover of Vogue magazine.
The newlywed supermodel is an ethereal sight in a classic purple, off-the-shoulder gown that makes her look like a Shakespearean romantic lead, and RadarOnline.com has an inside look at the stunning photo spread.
Inside the September issue of Vogue, Moss, 38, opens up about her July wedding to musician Jamie Hince. The article also features exclusive pictures by famed photographer Mario Testino of the nuptials that took place in the rolling hills of the English countryside and followed a 'Great Gatsby' theme.
Article continues below advertisement
"I wanted it to be kind of dreamy and 1920s, when everything is soft-focus," said the fashion icon. "The code name was GG for awhile. That light and that kind of fun decadence. It's rock-'n'-roll Great Gatsby!"
As for her dress on the big day, Kate said before the wedding that she wanted, "a classic Galliano, those chiffon thirties kind."
"I've lived in his dresses for years, and they just make me feel so comfortable. But it's so much more couture, couture, couture. Oh, my God, the work that's going into the dress."
She discussed her fashion dream with the designer over the phone while he was in rehab for making anti-Semitic remarks and then the two met for four marathon fittings after his release.
Surprisingly, Kate reveals that part of the inspiration for the wedding's look and feel came from a British reality show called Big Fat Gypsy Weddings.
"I'm so romantic about gypsies," Kate explains in the interview. "They're not allowed to do anything until they get married. So they all get married really young, at sixteen. You can't believe the dresses. They're like blinging butterflies times ten; they can't move down the aisle!