Lindsay Lohan To Face Judge at 10am PDT Wednesday – Radar To Live Stream Hearing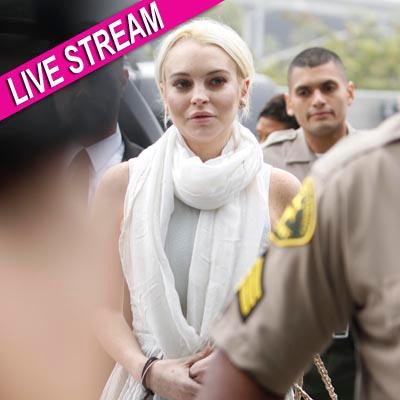 10:45am PDT UPDATE: The judge has revoked Lindsay's probation and she was immediately handcuffed and taken into custody. Her bond was set at $100,000, and she's expected to post it shortly. She was ordered back in court on November 2.
Lindsay Lohan is facing a Los Angeles judge right now for a progress report to determine if she's on track to complete the requirements of her probation stemming from a shoplifting conviction, and RadarOnline.com is live streaming the hearing.
Article continues below advertisement
During the hearing at the LAX courthouse, Judge Stephanie Sautner could revoke Lindsay's probation and remand her into custody, but if that does happen, her bail bondsmen (who's coming to court with her) will immediately bail her out, as he's done in the past. If Sautner does revoke her probation, she would then set a date for Lindsay to return to court for a probation violation hearing.
RadarOnline.com has learned that the Mean Girls star, 25, has completed approximately 40 hours of the 360 hours of court-mandated community service she needs to finish by April of next year.
In addition, despite being booted from the Downtown Women's Center (an agency that helps homeless women) for repeatedly lacking off, Lindsay worked all last week at the Red Cross and she has completed her Shoplifters' Anonymous course and is undergoing court-ordered counseling, although some of it has been by phone. (Judge Sautner didn't specify that the sessions had to be in person).
Prosecutors are expected to argue that Lindsay has been laxed in fulfilling the requirements of her probation, while her attorney will argue Lindsay is committed to completing it.
Article continues below advertisement
No matter what happens in court today, Saunter -- who's repeatedly warned Lindsay in the past that she's not above the law -- will likely scold the actress and warn her to step up her progress on completing her probation requirements and assign her to a new location to complete her community service.
Again, RadarOnline.com will live stream the hearing, scheduled to begin at 10 a.m. PDT.
Visit msnbc.com for breaking news, world news, and news about the economy