John Wayne Gacy's Victims Exhumed, Dozens Of Families Offer DNA To Help Identify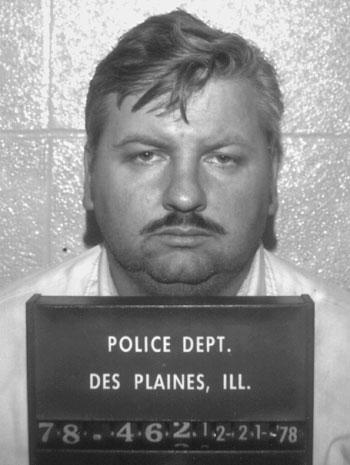 Serial killer John Wayne Gacy murdered 33 victims and despite his execution in 1994 by lethal injection, police have reopened the investigation in an attempt to identify all of his victims, RadarOnline.com has learned.
Dozens of families of young men who went missing in Chicago during the 1970s have come forward in the hope of having the fate of their loved ones confirmed once and for all, reported the Chicago Tribune.
Article continues below advertisement
The relatives are taking part in DNA testing after the Cook County sheriff's office announced last week that they had exhumed eight skeletal remains of victims of Gacy in order to finally give the John Does names.
Following the arrest in 1978 that finally stopped Gacy's 6-year killing spree, police pulled body after body from the crawl space under his Chicago home, four more corpses were dumped in a nearby river after the serial killer ran out of room at the house.
Gacy went down in history as the 'Killer Clown' due to his habit of appearing at fundraising events and children's parties dressed in a creepy character he created called Pogo The Clown.
Investigators now hope that new technology can finally put the remaining victims to rest and have sent the jaws, teeth and femur bones to a Texas lab to be examined.
"These remains go back 35 years and that is just too long for those families of the missing to wake up and not know what happened," said Arthur Eisenberg, co-director of the University of North Texas Center for Human Identification in Fort Worth, reported CW33 News.
MORE ON:
Celebrity Justice
Article continues below advertisement
"We can get DNA from each and every one of these bones, but unless we have something to compare it to, we won't be able to make the identification."
According to the Chicago Tribune, police obtained DNA samples on Monday from two local families who think their loved ones could be Gacy victims after they went missing in unusual circumstances.
"One young man went to a wedding and dropped his date off and was never seen again," he said. "(That is) not the behavior of someone taking off to start a new life somewhere," said Sheriff Tom Dart.
The other family told detectives their loved one had talked about working construction and being paid cash — a chilling similarity to some of Gacy's known victims, who were killed after agreeing to work for him.
A medically-diagnosed psychopath whose final words before his execution were "kiss my ass," Gacy's murders go down in history as some of America's grisliest crimes and Dart hopes to finally solve the last mystery and close the case.