RADAR LIVE: Michael Jackson Death Trial: Talkback, News & Opinion Live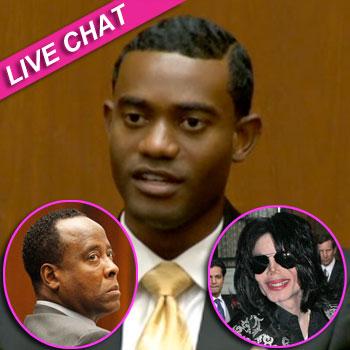 It was a riveting morning of testimony Tuesday in the involuntary manslaughter trial of Dr. Conrad Murray in connection with the death of his former patient, Michael Jackson.
Sade Anding, a Houston cocktail waitress, and a girlfriend of Murray's, testified that she received a phone call from the doctor at 11:51 a.m. on the morning of June 25, 2009, which is the time prosecutors contend that Murray realized Jackson was in medical distress.
Article continues below advertisement
"I started telling him about my day, and that's when I realized he was no longer on the phone. I was just talking, and the next thing, I said 'Hello hello,' and then I didn't hear anything," Anding said.
Nicole Alvarez, another girlfriend of Dr. Murray's and mother to his toddler son, testified about the time she met Michael Jackson. "I was speechless. I couldn't believe I was meeting Michael Jackson...Mr. Jackson was very interested in my pregnancy, and wanted to meet our son," Alvarez told jurors.
The prosecutor grilled Alvarez about Fed-Ex shipments that were sent from Applied Pharmacy in Las Vegas to her apartment. There were at least four different shipments from the pharmacy to Alvarez's residence, and she signed for at least one of those deliveries. The prosecution maintain that Murray was shipping orders of Propofol, the drug that killed Jackson, to Alvarez's home.
Michael Jackson's longtime friend and fitness guru, Lou Ferrigno and New York Times bestselling author Ian Halperin will be the featured guests on Radar Live: Michael Jackson Death Trial on Tuesday.
Article continues below advertisement
RadarOnline.com will be broadcasting a LIVE podcast at 12:30 p.m. PT/3:30 p.m. ET to provide up-to-the minute news, analysis and commentary about what's been dubbed the Trial of the Century -- the People Vs. Dr. Conrad Murray.
You too can take a stand on the issues discussed by our panel as we take your calls about the trial, as all the drama unfolds.
Want to be on air? Call (877) 604-2496 during the show!