Marathon Runner Stripped Of His Medal After He Was Caught Catching The Bus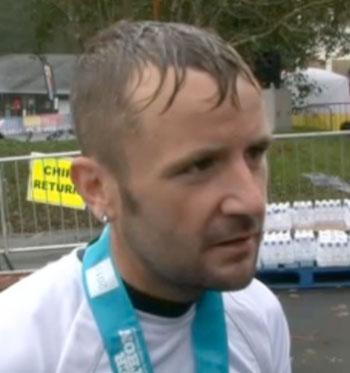 The toughest thing about a marathon is that you have to tackle the whole 26 miles on foot -- with no help from motorized vehicles.
After trying to buck this rule, a disgraced runner was forced to give back his third place medal when it was discovered that he got tired of pounding the pavement and hopped on a bus, RadarOnline.com has learned.
Rob Sloan, of Sunderland, England, dropped out of the race after 20 miles and hitched a ride on a double-decker spectator bus before jumping off just before the finish line in time to claim the third prize, reported BBC.co.uk.
Article continues below advertisement
At first Sloan was outraged when he was accused of cheating by organizers of the rain-soaked Kielder Marathon in Northumberland but eventually admitted to skipping the last five miles of the soggy run and apologized.
"Rob Sloan had apparently made the decision to withdraw from the race at approximately 20 miles due to fatigue," said a spokesperson from sponsor Northumbrian Water.
"This was rightly questioned by several witnesses including the rightful third place finisher Steven Cairns of Peebles, Scotland who has been awarded his prize."
Suspicion was alerted by Cairns who thought it was impossible for Sloan to have passed him, especially as he was the only runner to have a faster time in the second half of the race than the first.
"At the end of the day, as funny as it seems, he's stolen my spot on the podium, my TV interview and my third place medal," said the disgruntled policeman.
RELATED STORIES: