Stars React To Lesbian Actress Kicked Off Southwest Flight For Kissing Girlfriend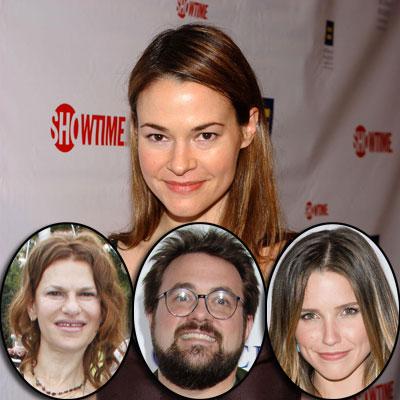 by RadarOnline.com Staff
Several members of the Hollywood community are coming to the support of The L Word star Leisha Hailey who says she and her girlfriend were kicked off a Southwest Airlines flight after the couple kissed on the plane.
On Tuesday, actress and comedian Sandra Bernhard tweeted her disgust at the airline, writing, "Won't stop until @southwestair refunds in full payment on tickets from ny-phoenix #boycottsouthwest #whatwasithinkingtobeginwith ," and went on to beg SWA to cancel her future flights.
Article continues below advertisement
"Please return my managers calls today @southwestair i want a full refund on my upcoming ny-phoenix tickets, i do not want to fly with you."
Sandra's latest comment was a follow up to a string of tweets on Monday, where the out-spoken actress did not hold back from expressing her feelings about what happened to Hailey.
"@Leisha_Hailey @SouthwestAir for kissing your lady! they are ridiculous. yes i would consider that illegal by the way," she wrote on Twitter, along with: "this is a hoot @leisha_hailey @uhhuhhermusic Southwest Airlines The LUV Airline! the 'luv' airline. what kind of 'luv' are ya talkin bout?"
Director Kevin Smith, who was booted from a Southwest Airlines flight in February 2010 because he was too big to fit in a single seat, tweeted: "Via @brett0929 'you see @leisha_hailey's trouble w/ @SouthwestAir? booted for kissing her girlfriend.' Sounds like a case of Too Fab to Fly."
"I can tell you from experience that SWA first lies with a cover story, and then quietly changes it without admitting," wrote the Clerks and Chasing Amy creator.
Article continues below advertisement
As for the offending airline, Southwest also chose to use the social networking site to respond to the outrage, requsting followers to, "Read our statement regarding Southwest Airlines Customers removed from flight 2274 here:
"Initial reports indicate that we received several passenger complaints characterizing the behavior as excessive. Our crew, responsible for the comfort of all Customers on board, approached the passengers based solely on behavior and not gender.
Article continues below advertisement
Lady Gaga & Other Celebs Cheer Repeal Of Don't Ask, Don't Tell
"The conversation escalated to a level that was better resolved on the ground, as opposed to in flight.
"We regret any circumstance where a passenger does not have a positive experience on Southwest and we are ready to work directly with the passengers involved to offer our heartfelt apologies for falling short of their expectations," read the statement.
As RadarOnline.com previously reported, Hailey claims she and her girlfriend were ejected from the Southwest flight after the attendant deemed their public displays of affection inappropriate.
"I have been discriminated against by@SouthwestAir. Flt. attendant said that it was a "family" airline and kissing was not ok," the actress posted on her Twitter account Monday afternoon.
"This is an outrage. I demand a public apology by @SouthwestAir and a refund. Hate is not a family value. I will never fly this airline."
Article continues below advertisement
Hailey, 40, has also had roles on Grey's Anatomy, Drop Dead Diva and CSI and is part of the electropop duo band, Uh Huh Her.
The Gay & Lesbian Alliance Against Defamation (GLAAD) is also weighing in on the in-flight incident.
"GLAAD contacted Southwest to call for additional actions beyond last night's statement that ensure all customers feel comfortable and welcomed while traveling," Herndon Graddick, Senior Director of Programs at GLAAD told RadarOnline.com on Tuesday.