Exclusive
Rebecca Zahau Suicide Controversy -- Rope She Hanged Herself With Not Visible In Video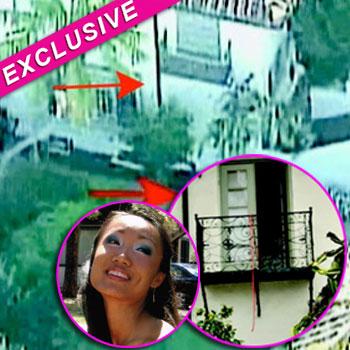 Article continues below advertisement
A local news helicopter was over the scene of Rebecca's gruesome suicide shortly after her body was discovered, and in a still image that RadarOnline.com has reviewed, there is not a pink rope visible hanging from the balcony, although you can clearly see Rebecca's lifeless body still on the ground.
The San Diego Sheriff's Department released several photos of a pink rope hanging from the balcony that they claim Rebecca hanged herself from. Cops have maintained that Adam Shacknai, Jonah's brother, cut Rebecca down after finding her the next morning, but that there was still some rope left behind. Rebecca also had a part of her T-shirt in her mouth, which Adam had removed.
Rebecca Zahau's family vehemently disagrees with the contention that she killed herself after Jonah's 6-year-old son, Max Shacknai, was found unconscious at the base of the stairs in the historic mansion two days earlier.
Max later died from his injuries. Rebecca's sister, Mary Zahau wants law enforcement to re-open the case, and has hired high profile attorney, Anne Bremner.
"This is another reason to reopen the case. The fact that the door is closed and the rope isn't there raises more questions in the investigation where they incorrectly found Rebecca's death to be a suicide," Bremner tells RadarOnline.com in an exclusive interview. "There are more questions raised everyday and it is startling -- assuming that the police made these changes after they arrived at the scene -- then why is her body still on the ground if they were collecting evidence?
Article continues below advertisement
"If there was no rope hanging from the balcony and the doors were closed but she was found bound, gagged and with a noose around her neck, she would not have closed the doors if she did what they said. If there is no rope hanging then she wasn't hanging there.
"This is stunning and we are hoping the police re-open the case. Beware of the rush to judge. There should not have been a rush to close this case."
However, Lt. Larry Nesbit of the San Diego Sheriff's Department tells RadarOnline.com: "I can't tell one way or another if the rope is in the picture from the news helicopter. What I can tell you is that the picture we released at the press conference of the rope hanging over the balcony was taken by a Coronado Police Officer.
"Our detectives saw the rope hanging from the balcony the entire time we were there, and it was only taken down at the conclusion of our on-scene investigation at the end of the day, which probably would have been very, very late that night that Ms. Zahau died."