Lady Gaga Shows Off Her Makeup-Free Face On Magazine Cover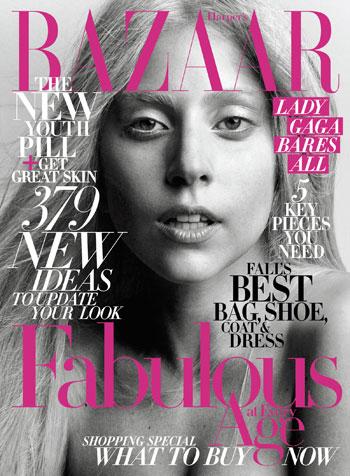 Lady Gaga shows a different – and barely recognizable – side of herself on the October 2011 cover of Harper's Bazaar Magazine, where she poses without her usual mask of makeup – and RadarOnline.com has the image.
"Whether I'm wearing lots of makeup or no makeup, I'm always the same person inside," she maintains during her in-depth interview with the fashion magazine.
And walking around in shocking revealing outfits is nothing new for the sassy singer.
Article continues below advertisement
"I'm very free-spirited," she says. "Even when I was a kid, I used to run around naked with the babysitter, driving her crazy."
In the interview, Gaga also dishes on her eating and exercise habits, learning how to surf on a recent vacation in Mexico and how she spends her alone time.
Early on Tuesday, Gaga took to her Twitter to share her excitement over the release of the cover, which she claimed is: "The first black and white cover printed in 20 years'.