Exclusive
Lady Gaga's Hot New Romance — Vampire Diaries Star Taylor Kinney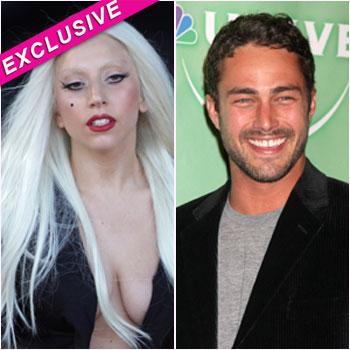 Let's hope this doesn't turn into a Bad Romance!
Life imitates art yet again, as RadarOnline.com can exclusively reveal that Lady Gaga has embarked on a hot new relationship with You and I video co-star, Taylor Kinney.
The two met in late July on the set of said video, and have been dating ever since.
"It was just casual at first, but things are getting pretty hot and heavy," a source close to the situation tells RadarOnline.com.
Article continues below advertisement
And indeed the handsome twosome were getting steamy when they popped into beachside bar, The Sneak Joint in Mission Viejo, California on Sunday September 4 for a few shots of Johnny Walker.
"I couldn't tell it was her at first," a Sneak Joint patron tells RadarOnline. "It just looked like some hot couple making out, but then I realized it was Lady Gaga! Everyone went nuts! She was so sweet too -- she even signed some autographs."
Then, on Monday September 5 Gaga and Taylor were spotted walking hand in hand on Mission Viejo's main drag, Mission Boulevard.
"Her hair was a little messy. It definitely seemed like a 'morning after' situation," our eyewitness says. "They are obviously totally into each other!"
And on Tuesday September 6 they were spotted yet again — this time on the beach!
So just who is this mysterious hunk that has won the heart of pop's reigning princess?
Article continues below advertisement