Ben & Jerry's New Ice Cream -- 'Schweddy Balls'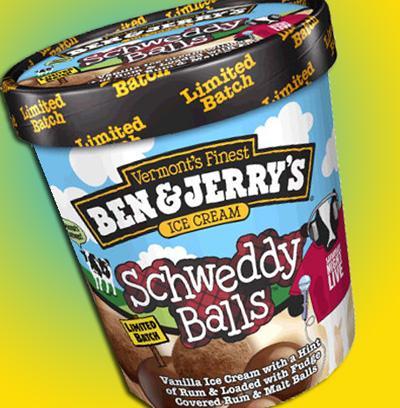 I think I'll skip the ice cream -- and go for some yogurt.
Ben & Jerry's announced late Wednesday that their newest ice cream flavor is called Schweddy Balls (yes, that's right); it's an homage to a hilarious (and extremely raunchy) Saturday Night Live skit featuring Molly Shannon, Ana Gasteyer, and guest host Alec Baldwin.
If case, you're wondering, it's vanilla ice cream with a hint of rum -- and yes, lots of malted milk balls. (What, no nuts?)
Article continues below advertisement
Alec Baldwin & Russell Brand Are Retro BFFs In 'Rock Of Ages'
In the SNL skit, Baldwin plays Pete Schweddy, owner of a holiday bakery called Season's Eatings. Shannon and Gasteyer play straight-laced NPR radio hosts interviewing him for a culinary show.
The running joke goes like this: "There are lots of great treats this time of year," Schweddy says. "Zucchini bread. Fruitcake. But the thing I most like to bring out at this time of the year are my balls." ( As in cheese balls, rum balls, etc.)
Baldwin, who will be hosting SNL's season premiere on September 24, released a statement saluting Ben & Jerry's, saying: "For a long time, I thought that 'Here Lies Pete Schweddy' would end up on my tombstone. Now, thanks to Ben & Jerry's, the goodness of the Schweddy family recipe won't go with me to the great beyond. It is immortalized here, right now, and it's an ice cream. Ben & Jerry's and Schweddy. Two great names in American dessert, together at last."
Article continues below advertisement
VIDEO: Alec Baldwin Punches Out John Krasinski!
Ana Gasteyer added: "As a person and a performer, I am a sucker for holiday balls. And I have no doubt this ice cream will cause many to scream 'Good Times.'"
As for the folks at Ben & Jerry's, they're throwing the love right back at SNL.
"We're HUGE 'Saturday Night Live' fans here at Ben & Jerry's and admire the writers, the crew and the players for their unparalleled ability to bring levity and laughter to America for decades," said Jostein Solheim, CEO of Ben & Jerry's. "No other show has made such an impact on our culture, poking fun at our accomplishments, our failures, and our history: the good, the bad and the ugly. Since 1975, 'Saturday Night Live' has allowed us to laugh at ourselves and for that we say thanks."
Alec Baldwin Getting New Ex-Lover On '30 Rock' - Condoleezza Rice!
The ice cream is being released in a limited batch, which means it will be distributed nationwide, but only for three or four months. If it proves popular, they could make more.
This is not the first time Ben & Jerry's has released a controversial ice cream; their special edition of Chubby Hubby, called Hubby Hubby, celebrated gay marriage.