VIDEO: Alec Baldwin Punches Out John Krasinski!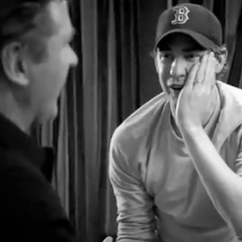 by RadarOnline.com Staff
Talk about taking one for the team!
Long-term Boston Red Sox fan John Krasinski got socked in the face by Alec Baldwin, a life-long New York Yankee fan.
But it was all in the name of commerce and good fun.
The Office star and 30 Rock's leading man are starring in a new commercial for New Era hats. That's the company licensed to makel MBL caps, and you can watch their LOL TV spot here on RadarOnline.com.
Article continues below advertisement
In the hilarious ad, Baldwin bangs on the door of John's apartment and when he appears, Baldwin connects with a right hook that sends Krasinski to the floor. It was all just a misunderstanding over who won the game that night between the rival teams.
"Ugh, you have the hands of a plumber," John tells Alec as he lies on the floor cradling his face.
Alec then gives him a wad of cash and tells him to get his face fixed.
"That's okay, I don't think it's broken," Krasinski says.
"I know," Baldwin responds snidely, "but get it fixed."
Luckily for John, his team actually did beat the New York Yankees Friday night, 5-4, so he can have the last laugh.