Alec Baldwin Getting New Ex-Lover On '30 Rock' - Condoleezza Rice!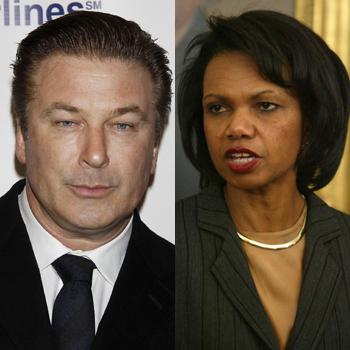 She was the National Security Advisor and then U.S. Secretary of State under George W. Bush, but did either of those jobs prepare Condoleezza Rice for Alec Baldwin?
We'll find out when the trend-setting Rice guest stars on NBC's 30 Rock.
She'll be playing herself in a story line that reveals she and Baldwin's character Jack Donaghy once had a fling THAT ended because he thought she'd become too flirty with Russian Prez Vladimir Putin.
Article continues below advertisement
In addition to her politico career, Rice is an accomplished pianist, university professor, author, and hardcore sports fan. Something in that resume should give her the chops to stand up to Baldwin!
Rice's 30 Rock episode will air mid-May.
RELATED STORIES: