Sarah Palin's New Grandbaby Is 'Beautiful' Says Other Grandmother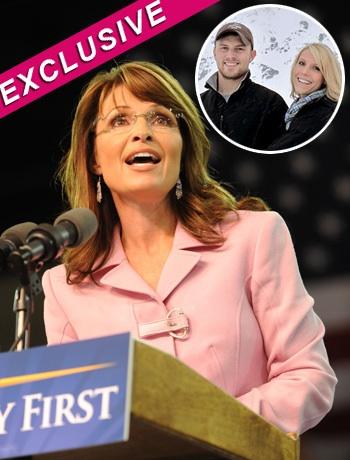 - RadarOnline.com Senior Reporter
Sarah Palin hasn't spoken publically about her newest grandchild, but the baby's maternal grandparents couldn't be happier.
In an exclusive interview with RadarOnline.com, Britta Hanson's mother Elizabeth expressed her delight over her first grandchild. "Kyla Grace is great. She's beautiful," the proud first-time grandmother said.
"I'm very happy," she gushed about the new baby.
Article continues below advertisement
Her daughter Britta, 21, gave birth to Kyla Grace on Saturday, August 6 just three months after marrying Track Palin, 22, Sarah and Todd Palin's oldest child.
"I love my daughter and my son-in-law very much," Hanson told RadarOnline.com about the overjoyed new parents.
Elizabeth Hanson spoke briefly about her family's relationship with the Palins. "They're their own people; we've known each other for a long time."