Sarah Palin Son Track Gets Married!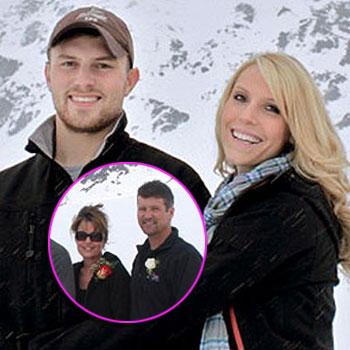 Congratulations!
Sarah Palin has a new girl in the family, as her eldest son Track, 22, recently got married to his high school sweetheart, Britta Hanson.
The 21-year-old Britta and Track ticket the knot in a small ceremony in Hatcher Pass, Alaska, with their families by their side and everyone in jeans.
"Our families couldn't be happier!" the Palins and Britta's family, Rev. Duane and Elizabeth Hanson, said joint statement. "These are two hard working, humble, active, studious young adults who grew up together. We're tickled that after two decades of friendship we proudly witnessed their marriage, knowing their new life together will be blessed."
Article continues below advertisement
The young couple has been dating since high school. Track is an Army Reservist and who served a year deployment in Iraq with a Ft. Wainwright Stryker Brigade he plans to attend the University of Alaska, after the commercial fishing season. Britta is a nursing student at the University of Alaska.
"The Hanson and Palin families are ecstatic and proud that Britta and Track married in one of our favorite spots in America, spectacular Hatcher Pass, Alaska," says the statement. "It's a site we've all shared fun memories of skiing, snowboarding, hiking and snowmachining."