Exclusive
Looks Like Sarah Palin's Going To Be A Grandmother Again!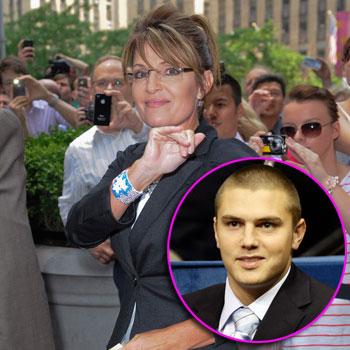 - RadarOnline.com Senior Reporter
By the looks of things, Sarah Palin is about to become a grandmother again!
Sarah's son, Track, 22, married his highschool sweetheart Britta Hanson, 21, just two months ago in May, and now photos have surfaced on a friend's Facebook page showing Britta posing with what looks suspiciously like a large baby bump.
Gawker was first with the news, along with the photos of a glowing Britta, and friends of the trainee nurse have responded to the Facebook pictures with elation.
Article continues below advertisement
So was it a shotgun wedding?
The couple tied the knot in a small ceremony with their immediate family in Hatcher Pass, Alaska and said they would have a larger ceremony in the winter "when extended family and friends from the Lower 48 can travel north for a long ski weekend."
"Our families couldn't be happier!" the Palins and Britta's family, Rev. Duane and Elizabeth Hanson, said in a joint statement in May. "These are two hard working, humble, active, studious young adults who grew up together. We're tickled that after two decades of friendship we proudly witnessed their marriage, knowing their new life together will be blessed."
Track and Britta started dating in high school. He is an Army Reservist who served a year deployment in Iraq with a Ft. Wainwright Stryker Brigade and he plans to attend the University of Alaska, after the commercial fishing season. Britta is a nursing student at the University of Alaska.
Sarah's first grandchild, Tripp, is her oldest daughter Bristol's son with now ex-boyfriend Levi Johnston. Her pregnancy announcement was made during the 2008 Presidential campaign. Bristol and Levi said they were going to get married, but after numerous breakups the two have no plans to walk down the aisle.
Article continues below advertisement