Exclusive
Sarah Palin's A Grandma, Again!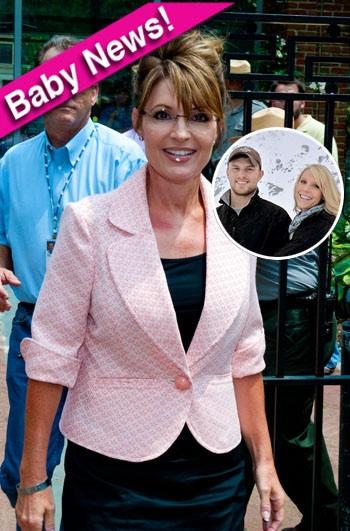 - RadarOnline.com Senior Reporter
Congratulations, Sarah Palin is a grandma for the second time!
The former Vice-Presidential candidate is the proud grandma of a brand new baby girl RadarOnline.com has learned, the daughter of her oldest son Track and his wife Britta.
A source close to the family confirmed the arrival of the little girl to the young parents who were married just three months ago in May.
The baby's name is Kyla Grace according to author Joe McGinnis.
Article continues below advertisement
Track, 22, married his high school sweetheart Britta Hanson, 21, in a small ceremony attended by family in Hatcher Pass, Alaska. Her parents, Reverend Duane and Elizabeth Hanson released a joint statement with the Palin's about their daughter's marriage, without a mention of her pregnancy.
"Our families couldn't be happier! These are two hard working, humble, active, studious young adults who grew up together. We're tickled that after two decades of friendship we proudly witnessed their marriage, knowing their new life together will be blessed."
Sarah's oldest daughter Bristol Palin was the first of her children to make her a grandmother. Bristol was a teen mom, giving birth at 18 to a little boy, Tripp, in December 2008. She is famously estranged from her baby daddy Levi Johnston.
Palin is an outspoken advocate for teaching teens abstinence only before marriage as a form of birth control.
RELATED STORIES: