Exclusive
Missing Aruba Woman Suspect Told Police Just Hours After Disappearance: 'She Might Be Dead Now'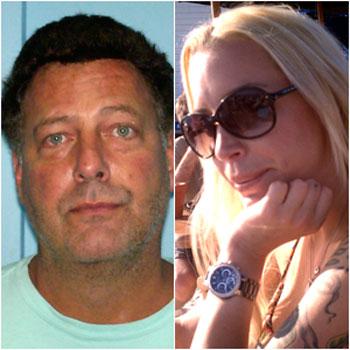 The prime suspect in Robyn Gardner's disappearance in Aruba calmly told police that he thought she was dead within hours of her vanishing, RadarOnline.com has learned.
Gary Giordano, who was traveling with the 35-year-old Maryland woman when she went missing on August 2, appeared drunk as he looked at his watch and told authorities, "She might be dead now," during the initial hours of the search, reported ABCNews.com.
Article continues below advertisement
Heavy drinking was a reoccurring theme for the couple during their trip, according to reports, and the last place Robyn was seen alive with the 50-year-old, also from Maryland, was at the Rum Reef Bar & Grill in the Baby Beach area of Aruba.
Local fisherman Sergio Silver told ABC that Giordano was so drunk when he reported that Robyn was missing to the police that they had to wait before taking an official statement from him, even though Gary claimed they didn't buy any drinks while at the restaurant.
"One of the police guys told us that he was so drunk that we got to wait, we can't talk to him now," said Silva.
A paper trail from before Gardner and Giordano had even left the U.S. proves that they were clearly planning to heavily party on vacation.
ABC has obtained receipts showing the pair bought four Bloody Marys at 9 a.m. at the Orlando Airport on their way to the island, and then purchased a liter of Ciroq vodka after they checked into their room at the Marriott Hotel in Aruba.
Article continues below advertisement
"The receipts function as a timeline, which is very important to the investigators," former FBI investigator Brad Garrett told the news network.
Gardner's boyfriend, Richard Forester, confirmed that Robyn liked to have a few cocktails in the afternoon, especially while on holiday.
"She was reported missing between 6 and 6.30 p.m., she would have had a cocktail by then just like anyone on vacation," he told RadarOnline.com in an exclusive interview, when explaining why he didn't believe that she would have gone snorkeling at that time.
A witness at the Aruban eatery where Gardner was last spotted said she seemed woozy, was drinking and barely ate her salad, while a restaurant worker told ABC News that he thought it was odd that she would be going snorkeling, as Giordano claimed, because she was glammed up with perfect hair and make-up.
Giordano has been jailed as the lone suspect in Gardner's disappearance, although he has not been charged with a crime and no body has been found.
Article continues below advertisement