Exclusive
Suspect and Witness Reports Don't Hold Water In Missing Aruba Woman Robyn Gardner Investigation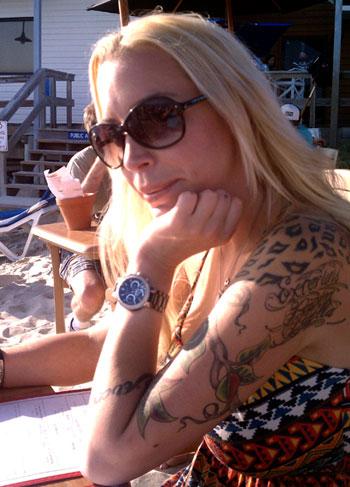 Investigators in Aruba are currently attempting to discover how missing Maryland woman Robyn Gardner spent the final hours before her disappearance in the midst of conflicting reports from both witnesses and the prime suspect.
Despite being groggy from sleeping pills, vodka and a heavy meal, Robyn ventured into the water but quickly cut her toe and retreated to dry land, a source has told ABCNews.com.
Article continues below advertisement
But her travel partner and the lead suspect in her disappearance, Gary Giordano told police that Gardner soon went back into the sea to go snorkeling, which is when she got caught in a strong current and was swept away.
Now further witnesses are casting doubt that the pampered 35-year-old got her hair wet at all, as she was fully made-up and styled when she was last seen alive at a local Aruban restaurant.
Just like many people who have heard Giordano's bizarre version of events, Gardner's long-time boyfriend Richard Forester doesn't believe that she would ever pop sleeping pills in broad daylight.
"I've never known Robyn to take any sleeping pills in the middle of day, nor do I know why anybody would take sleeping pills during the middle of the day," Forester told Good Morning America.
"But let's go with his word here," Forester said of Giordano. "So you say she was taking sleeping pills, then you give her vodka? And then you take her snorkeling? Really? Why would anybody do that? Obviously I don't believe anything he's saying."
Article continues below advertisement
More witnesses emerged earlier this week that cast doubt on everything that Giordano says.
A fisherman claims that he saw the couple walking along the beach a short time before she vanished but that neither entered the water, while another said that Gardner was woozy at the beachfront restaurant and barely ate her salad.
As RadarOnline.com previously reported, Giordano had become angry with Gardner, his friend of two-half-years, when she canceled a cruise that the pair were meant to go on earlier this year and sent her abusive texts.
"He got very angry about it. Robyn forgave him but it was very, very upsetting for Christina (her roommate)," their close friend, Lianne Delawter told RadarOnline.com in an exclusive interview.
"I wasn't concerned when she said she was going away with him, no one knew this stuff. He had said he had problems with women but explained them away, there were no specific details. I don't think she knew the extent of it, I am sure even Gary's family didn't know. Everyone is shocked."
Article continues below advertisement