Exclusive
Robyn Gardner's Boyfriend On Seeing Last Photo Of Her In Aruba: 'It Makes Me So Sad'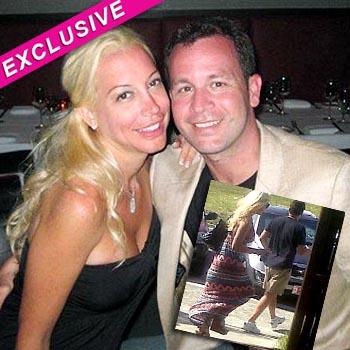 The boyfriend of Robyn Gardner -- the Maryland woman missing and presumed dead in Aruba -- is speaking out exclusively to RadarOnline.com about his heartbreak as the final photograph of her -- taken just hours before she vanished -- surfaced Tuesday.
"It makes me so, so sad," Richard Forester told RadarOnline.com, as he fought back tears after seeing the photo of his 35-year-old girlfriend outside of the Rum Reef Bar And Grill near the Baby Beach area of Aruba.
Article continues below advertisement
"It is difficult knowing it was the last time anyone had seen her and it has been three weeks ago," revealed Forester, who had been dating Gardner for the past two-and-half years.
In the grainy picture, Gardner is seen walking close behind travel partner Gary Giordano, the prime and only suspect in her disappearance at the moment. It was taken at 4 p.m. local time on August 2, less than two hours before her 50-year-old companion returned to the restaurant and claimed she had vanished while snorkeling, reported ABCNews.com.
"I love seeing any pictures of Robyn but this is sad," sobbed Forester, "She was wearing one of her favorite dresses."
While seeing what could be the final image of Robyn alive is heart-breaking for Richard, it doesn't change how he feels about her or the case in any way.
"The photo of her isn't a revelation for me. I knew she was down there and who she was with before it emerged, so it's not anything I wasn't aware of," he explained.
Article continues below advertisement
"The point is to find her, it's not about the gossip -- that's irrelevant. Her being with him is unfortunate. All that matters is getting her home, and then for justice to be served, whatever it has to be...nothing else matters," the 41-year-old from Bethesda, Maryland told RadarOnline.com.
A witness at the Aruban eatery where Gardner was last spotted said she seemed woozy, was drinking and barely ate her salad, while a restaurant worker told ABC News that he thought it was odd that she would be going snorkeling, as Giordano claimed, because she was glammed up with perfect hair and make-up.
Robyn Gardner's Boyfriend Wants Justice For His Missing Girlfriend
Robyn's close friend Lianne Delawter agreed that her pal would never ruin her looks for a snorkeling trip, "She had hair extensions and a spray tan, she couldn't have snorkeled," she told RadarOnline.com.
Those who saw the couple at the restaurant tell ABC News they were clearly in a romantic relationship, with Gardner reportedly telling the server, at one point, she was waiting for her "husband" to order, while Gary went out of his way to introduce themselves to staff, which the server thought was odd and reported to the authorities.
Article continues below advertisement
As Monday's search for Robyn came up empty once again, Richard told RadarOnline.com that he is not going to Aruba to hunt for her as he thinks it is more useful staying back in America working with the authorities.
Gary Giordano Ordered To Remain In Jail For Disappearance Of Robyn Gardner
"I'd love to go down there and help, but I'm best serving her here," he explained. "I was hoping for some positive feedback, a clue or something, I would like to have seen canines, I don't know if they have them but I haven't heard of it.