Exclusive
Farrah Fawcett's Best Friend 'Deeply Saddened' By Redmond O'Neal's Arrest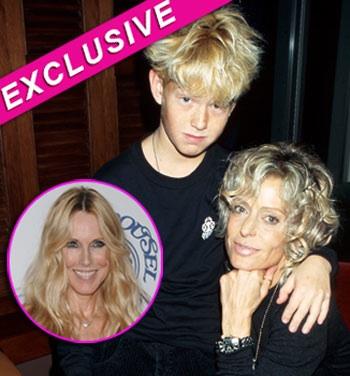 By Cliff Renfrew - RadarOnline.com Reporter
Alana Stewart has told RadarOnline.com that the arrest of her late best friend Farrah Fawcett's son Redmond O'Neal has left her feeling 'deeply saddened'.
Recovering drug addict Redmond will appear at LAX Airport Courthouse on Thursday in connection with his arrest in Santa Monica on Tuesday after police allegedly found heroin in his car.
It is the latest set-back for Redmond in his long battle against drugs and he is now facing the possibility of serious jail time as he was on felony probation for a previous heroin possession case at the time of his most recent arrest.
Article continues below advertisement
But Stewart - who considers the son of Fawcett and Ryan O'Neal to be like a part of her own family - believes that people need to be more understanding of his addiction.
She told RadarOnline.com: "I was really saddened to hear about Redmond because he is like family to me.
"I just hope and pray that he gets the help that he needs because he is a good kid with a good heart.
"People have to understand that addiction is a disease and not a choice I just hope and pray for Redmond at this time."
Stewart will be hoping that Redmond's latest legal troubles pan-out when he faces a judge in court tomorrow.
Meanwhile, he remains locked-up without bail while sources have told RadarOnline.com that Redmond had stopped seeing his sponsor lately and had been hanging around with a bad crowd.
O'Neal's legal ace attorney, Richard Pintal told RadarOnline.com: "My client will be arraigned on Thursday morning. I don't know at this point what charges he will be facing."