Exclusive
Farrah Fawcett Producer: 'Ryan O'Neal Is Trying To Harass Me Into Silence'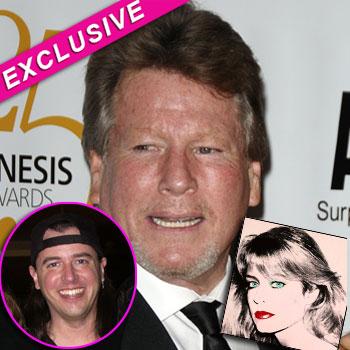 Ryan O'Neal filed a million dollar lawsuit on Thursday against Craig Nevius, the executive producer of Chasing Farrah and Farrah's Story for defamation and libel. In it O'Neal accuses Nevius of spreading false stories about him that are "malicious and defamatory" and claims he's been damaged in excess of $1million.
In an exclusive statement to RadarOnline.com Nevius asserts his innocence in the matter, and maintains that O'Neal is merely trying to harass him into silence.
Article continues below advertisement
The fracas is all over an Andy Warhol print of Farrah Fawcett that O'Neal has hanging in his house. The University of Texas is suing O'Neal because Farrah left her two Warhol prints to her alma mater. O'Neal claims however that Warhol gave him the Fawcett print that he claims he owns and that's it's one of his "most prized possessions and a precious memento of his life with Ms. Fawcett."
O'Neal alleges in his lawsuit that the University of Texas was only spurred into action after Nevius told media outlets that the actor had stolen the print and O'Neal claims he's suffered "humiliation, mental anguish and emotional distress" from Nevius' alleged actions.
Nevius sees it quite differently though, telling RadarOnline.com: "I regard this latest lawsuit as a desperate attempt by Ryan O'Neal to further harass me into silence. I believe this is less about the portrait of Farrah Fawcett by Andy Warhol than it is about certain actions and events that occurred during the last few years of Farrah's life which I have knowledge of and that he (and others) would prefer me to never speak about."
MORE ON:
Celebrity Justice
Article continues below advertisement
Nevius asserts that he never made any claims that Ryan stole the artwork. "At no time have I ever claimed that Ryan O'Neal stole the portrait of Farrah Fawcett. That is a verdict that must be reached by a judge and jury in the pending litigation brought against him by the University of Texas.
"I have simply recounted the request by Farrah's alma mater to help them identify and locate numerous pieces of artwork that appeared to be mysteriously missing from the original inventory provided by her estate which, by the way is overseen by Richard B. Francis - Ryan O'Neal's loyal friend and business manager of over forty years."