Exclusive
Ryan O'Neal Ready To Defend Himself Over 'Missing' Farrah Fawcett Warhol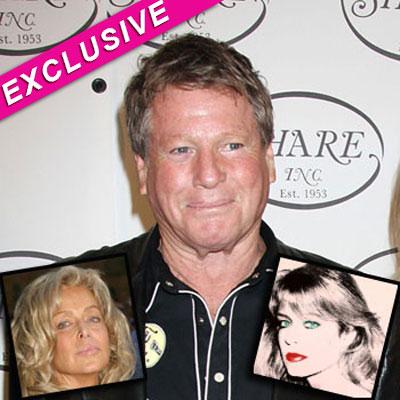 By Cliff Renfrew - RadarOnline.com Reporter
Ryan O'Neal is prepared to fight to clear his name over the mystery surrounding a $30 million Andy Warhol painting of his former lover Farrah Fawcett, RadarOnline.com has exclusively learned.
The painting was a part of an art collection bequeathed to the University of Texas by Fawcett in her will. (Fawcett had studied art there).
Fawcett's estate has yet to be settled, but in the meantime, University of Texas officials are looking for some of the artwork -- in particular a 1980 Warhol portrait of the former Charlie Angel's star.
Article continues below advertisement
The portrait was believed to be missing, but last Friday, on the eve of the second anniversary of Farrah's untimely death from cancer, we learned that the famous portrait was actually hanging in O'Neal's bedroom of his Malibu beachfront home.
The portrait was clearly visible in the debut episode of the new reality TV show Ryan & Tatum: The O'Neals, which chronicles the troubled relationship between O'Neal and his daughter.
An insider told RadarOnline.com: "Ryan will clear his name. The University Of Texas is fully aware of the whereabouts of the painting.
"If he had stolen it do you really think it would be openly displayed in public like that?
"Some people are trying to make mischief on the second anniversary of Farah's death which is really sad.
"But Ryan is prepared to go to court if that is what it takes to clear his name because he knows that he has done nothing wrong here."
Article continues below advertisement
In addition, it has been reported that Ryan has been paying insurance to make sure the painting was covered and everything is above board, adding to his case that the painting is indeed his.
Controversy has surrounded Fawcett since she lost her brave battle with cancer at the age of 62 on June 25, 2009.
Her long-term partner O'Neal, best friend Alana Stewart and business manager Richard Francis, settled a multi-million dollar court battle with television producer Craig Nevius earlier this year over the documentary Farrah's Story.
The case was dismissed at a Santa Monica court after Nevius claimed he no longer had the funds to fight the other parties.
Then several observers raised questions after Fawcett's famous red swimsuit when it was was donated to the Smithsonian Museum in Washington D.C. at a ceremony by O'Neal.
A Look Back At Farrah Fawcet Through The Years
But Alana has defended the gesture by telling RadarOnline.com that her former best friend would have been delighted about the famous swimsuit donation.