Exclusive
Janine Lindemulder's Fellow Inmates Jeer At Jesse James On Jail TV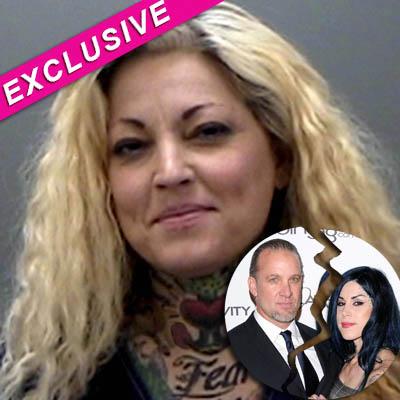 By Cliff Renfrew - RadarOnline.com Reporter
Janine Lindemulder has told RadarOnline.com that female inmates inside a Texas prison started bad-mouthing Kat Von D's former fiancé Jesse James when an episode of LA Ink was shown on TV.
Lindemulder - who was released from Hays County Jail over the weekend after a friend posted her $10,000 bail - was pleased with the reaction to her former husband whom she continues to battle over custody of their 7-year-old daughter Sunny James.
Article continues below advertisement
The former porn-star revealed that she voluntarily handed herself over to the authorities in Texas because there were already warrants out against her from the last time she was in the Lone Star state.
Lindemulder revealed: "I handed myself over as I wanted to wipe the slate clean because I intend to stay here as long as it takes to see my daughter Sunny.
"The sheriff's department was amazed but I wanted to do the right thing and a friend paid my bail which was cool because they were going to shave my head if I was still in jail by Monday and I had just got extensions put in!
"The prison officers and inmates treated me well and it was really funny because when they showed an episode of LA Ink the female inmates started swearing and jeering Jesse.
"Word had got round that I was inside and everybody was cool with me - Jesse may be able to fool the courts but at least the female inmates can see through him."
Penniless Lindemulder intends to stay in Texas and try and get regular contact with Sunny who currently lives at her father's mansion just outside Austin.
Article continues below advertisement
The couple's contentious court case over their daughter has now been moved to Texas from Orange County in California – Lindemulder was previously arrested last January after James complained to Austin police that she had bombarded him with telephone calls to his home.
This led to her having several Class B harassment warrants out against her which she tried to address by surrendering herself.
She added: "The problem is that Jesse keeps ignoring the court orders and will not let me talk to Sunny at the appropriate times.
"He will not set up an e-mail account or do the family wizard system that would allow me to communicate with Sunny.
Kat Von D Got Tattoo Of Jesse James Face Right Before Break Up!
"I'm going to drive my truck to a camp site and I'm still waiting to hear about the in-patient programme that I am supposed to attend that Jesse agreed to pay for.
"I hope people give me a chance down here although I know it is Sandra Bullock country -- I just want to see my daughter that is all."