Kat Von D Got Tattoo Of Jesse James Face Right Before Break Up!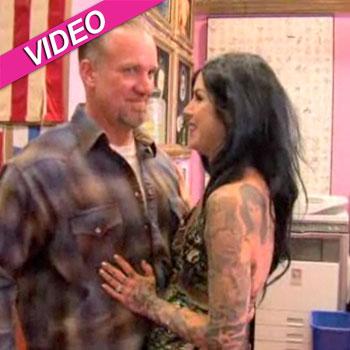 - RadarOnline.com Senior Reporter
Kat Von D and Jesse James may have broken off their engagement, but she has one thing from the relationship that is going to be really hard to get rid of - a tattoo of his face!
In the sneak peek of the season premiere of LA INk obtained by RadarOnline.com, Kat surprises Jesse with a tattoo on her left side that is his face from a childhood school photo.
"I'm getting his face tattooed on me and I have no idea how he's going to react," Kat says in the clip.
Article continues below advertisement
When Jesse arrives at her tattoo shop he jokes "I feel like I'm in court," as Kat tells him she's nervous about giving him his "surprise."
He seems happy with her new ink - saying "you're crazy," but ultimately telling Kat "yeah" he loves it, and "I love you."
Perhaps foreshadowing the future, Kat says she was scared about Jesse's reaction. "I thought you were going to tell me you were breaking up with me."