Exclusive
Burt Reynolds $1.2 Million Mortgage Debt — Facing Foreclosure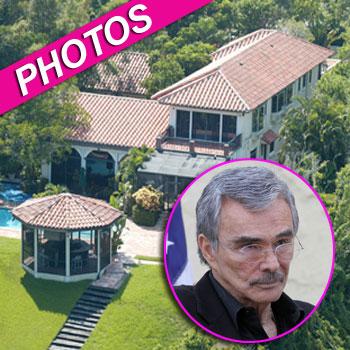 He was once one of the most in demand stars in Hollywood, but Burt Reynolds has fallen on such hard times that his home is now being threatened with foreclosure, and RadarOnline.com has the documents to prove it.
The Boogie Nights legend has been slapped with a lawsuit claiming he owes $1.2 million on his Hobe Sound, Florida home and if he doesn't pay up he'll be turfed out of his estate.
Article continues below advertisement
DOCUMENTS: Burt Reynolds Facing Foreclosure
The suit, filed on behalf of Merrill Lynch Credit Corp. claims Reynolds hasn't made a payment on the property since September 2010.
It documents that the actor owes $1,193, 808.72 in principal on the mortgage and a further $24,036.23 in interest, taking the grand total to $1,217,894.95.
He also took out a second loan for $750,000 on the home, which is valued at $2.4 million.
The 72-year-old and his ex-wife, Loni Anderson, initially took out a $1.5 million mortgage on the home in 1994, with the understanding that the loan would be paid off by 2019.
Burt Reynolds tells RadarOnline.com: "With regard to the foreclosure action filed by Merrill Lynch on my house, for several reasons I am as surprised as everyone.
"I thought my career and my life could not be going better. To all of the people who have had such faith in me and stuck by me through thick and thin, thank you. I know it is not the end of the world.