Rihanna's Concert Stage Catches Fire, Watch The Video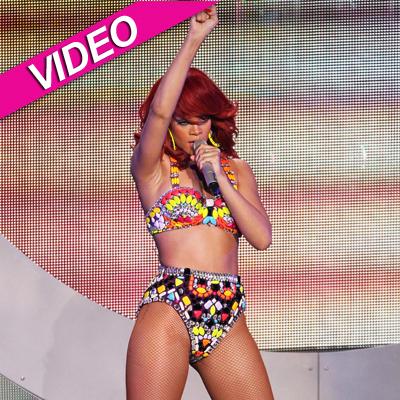 Rihanna was forced into calling a sudden end to her concert at the American Airlines Center in Dallas last night, after a fire broke out on stage.
The songstress was in the middle of singing her new hit California King Bed when a stage light, suspended above her, caught fire and she made the decision to exit the stage.
The fire was quickly put out by several stage hands but all 12,500 fans were forced to evacuate the building, cutting the show short.
Article continues below advertisement
Rihanna later took to her Twitter to voice her disappointment over the mishap.
"DALLAS!!! We set the stage on FYAH tonight!!! LITERALLY!!! I'm so pissed, I was havin so much fun wit yall too!!! I gotta come back man!!"
She also revealed that she was heading into a production meeting with her staff to "find out exactly what happened."
Early indications were that pyrotechnics set off during the performance may have played a part but luckily there were no injuries.
Dallas Fort-Worth Fire Rescue Captain Johnny Bates told CBS Dallas that the blaze was handled by the shows crew.
"One of our engine crews did enter the building but crew members with the AAC or concert put out the initial fire,' he said. "Everything is under control and there are no injuries."
Rihanna is set to continue her 'Loud' Tour tonight at the Toyota Center in Houston, Texas.