Exclusive
EXCLUSIVE: Rihanna 'Smokin' Mad' at Bad Girl Natalie Nunn For Dating Her Cousin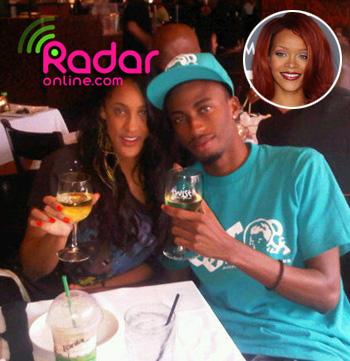 Whips and chains may excite Rihanna, but Bad Girls Club beauty Natalie Nunn upsets her.
RadarOnline.com has learned exclusively that the trend-setting S&M singer is furious that Nunn -- who she has bad blood with over a reported fling with her ex, Chris Brown -- has been dating the Umbrella's singer first cousin, Tee-Jay.
"Natalie Nunn is crazy in love with Rihanna's cousin, and she's smokin' mad," a source revealed to RadarOnline.com "Rihanna is angry because Natalie badmouthed her for a long time after the rumors came out that Natalie was dating Chris Brown."
Article continues below advertisement
The source said Nunn and Rihanna's cousin "have been in Los Angeles for over a month together, and Tee-Jay hasn't gone home or visited Rihanna so she wrote a nasty tweet."
The tweet in question from RiRi to Nunn: "@Natalie Nunn U made My cous go MIA on a Mohf**ka"
"Natalie's thinks Rihanna's cousin is a cute, sweet boy, raised properly, and she said she never wants to give him back," the source said. "I think Rihanna's feeling protective of him because she and Natalie have had a bumpy past."