Rihanna Responds To Music Video Backlash: 'I'm A Rockstar With No Kids!'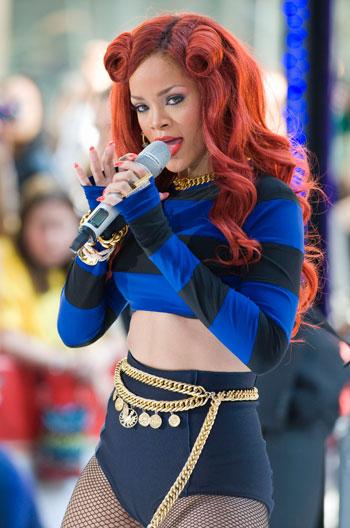 In the 90s, then-basketball superstar Charles Barkley made waves with his public proclamation of "I am not a role model;" on Tuesday, Rihanna took a page out of Sir Charles' book.
The sexy pop superstar fired back after catching flak from the Parents Television Council for her gritty new video Man Down, in which she portrays a rape victim who stalks, targets and eventually shoots her attacker.
Article continues below advertisement
Not cool, according to the PTC's Melissa Henson.
"Today's youth need more positive strategies for dealing with conflict than those portrayed in the Rihanna video," Henson said. "This video is one ... that lyrically or graphically glorifies violence and other behavior inappropriate for teens and youth."
The hitmaker -- who boasts a catalog of sexy songs (and accompanying videos) such as S&M, Rude Boy and Shut Up And Drive -- took to her Twitter account to fire back at the naysayers on Thursday.
"I'm a 23 year old rockstar with NO KIDS! What's up with everybody wantin me to be a parent? I'm just a girl, I can only be your/our voice!" she tweeted to her 5 million-plus followers. "Cuz we all know how difficult/embarrassing it is to communicate touchy subject matters to anyone especially our parents!"
She then wrote: "And this is why!Cuz we turn the other cheek! U can't hide your kids from society,or they'll never learn how to adapt!This is the REAL WORLD!