VIDEO: Britney & Rihanna Sizzle At Billboard Music Awards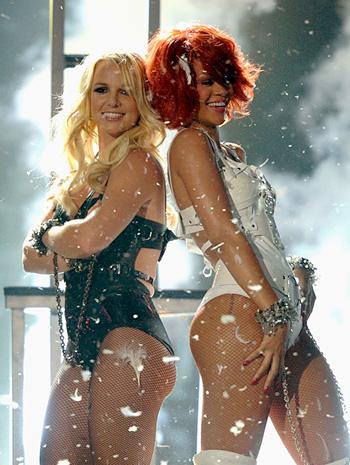 by Radar Staff
Britney Spears and Rihanna kicked off the 2011 Billboard Music Awards Sunday night in spectacularly sexy fashion.
The reigning princesses of pop took to the stage at the MGM Grand Hotel and Casino in Las Vegas to perform their remix version of S&M as the opening performance of the show.
Wearing contrasting outfits, Britney in a black basque with black leather boots and Rihanna in a white version with white thigh high stiletto boots, the two women gyrated and danced together on stage.
Article continues below advertisement
Britney appeared back at her best, looking confident on stage and grinning throughout the set.
At one point, Rihanna grabbed a smiling Britney's face and planted a big kiss on her cheek making the crowd go wild, screaming and cheering.
The show, broadcast on ABC, also included performances from Ke$ha, Black Eyes Peas and Lady Gaga.
RELATED STORIES:
EXCLUSIVE: Rihanna 'Smokin' Mad' at Bad Girl Natalie Nunn For Dating Her Cousin