Eminem, Justin Bieber & Rihanna Among Big Winners At Billboard Music Awards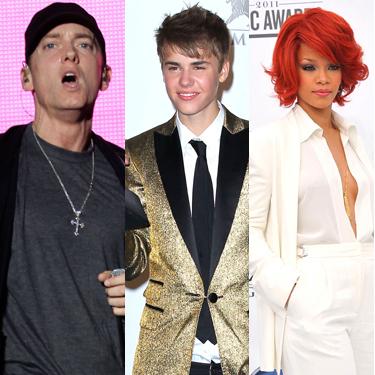 Eminem, Justin Bieber, and Rihanna were among the big winners at the 2011 Billboard Music Awards from the MGM Grand in Las Vegas on Sunday night.
Eminem and Bieber tied for first place with six awards each.
Eminem snagged the top artist, top male artist, top rap artist, top rap song, top rap album, and top Billboard 200 album; he was not on hand for the event.
Bieber won the fan favorite winner, top new artist, top social artist, top streaming artist, top streaming song, top digital media artist and top pop album.
Article continues below advertisement
"I'm 17 and I want to thank God because, you know, he's blessed me so much," Bieber said after collecting the honor for top new artist. "Every day is crazy because I see so many people. It's crazy that I'm surrounded by so many amazing people.
"I want to thank my fans again for being so amazing. I want to thank my mom."
The Barbadian beauty won three awards, including radio artist of the year and top female artist, while stealing the show with a sexed-up duet of S&M with Britney Spears.
"Now I can't remember anything I wanted to say," RiRi said when taking the stage to accept one of the awards. "So I am going to look for the faces."
Taylor Swift's award show success continued, as the beauty also won three awards, including the top album artist and top country artist.
"I just remember I used to watch the Billboard awards and see my heroes like Shania Twain win these and now," she said after winning the top county artist award. "I'm just having the best time doing this.
Article continues below advertisement
"I want to thank country radio and the fans for letting me do what I love more than anything in the world."
Lady Gaga was another of the night's big winners. Although nominated in 15 categories, she picked up three trophies -- Top Dance/Electronic Artist, Top Pop Artist and Top Dance/Electronic/Electronic Album.
For a full list of winners, click here.
Besides Rihanna, Beyonce, Cee Lo Green, Lil Wayne with Mary J. Blige, and the legendary Neil Diamond all performed at the show.
The Hangover's Ken Jeong hosted the show.