Exclusive
Michael Lohan Says 'Drinking At All Is Not Good For Lindsay'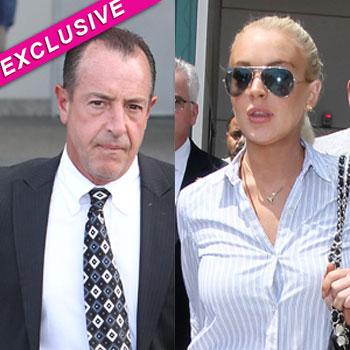 - RadarOnline.com Staff Reporter
Judge Stephanie Sautner ruled Thursday that it is fine for Lindsay Lohan to drink alcohol, but her father strongly disagrees.
"Regardless of whether she gets tested on not under home arrest any drinking at all is not good for Lindsay," Michael Lohan told RadarOnline.com following his embattled daughter's court appearance.
Concerned about the people who have been at her Venice Beach house during her home arrest, Michael spoke about seeing his daughter over Father's Day weekend.
Article continues below advertisement
"When I saw the people around her this weekend I got a horrible feeling. They're just not good people. It's obvious that they have the wrong intentions and are trying to get her in trouble."
Michael told RadarOnline.com earlier on Thursday that he hoped his 24-year-old daughter did not return to jail. And after the judge's decision that Lindsay had not violated her probation, and no further action was required, he said he was pleased for Lindsay.
"If those are the guidelines for her home arrest then God bless her and I'm happy she's home," Michael said. "Like the judge said, Lindsay has to use good judgment and she certainly better surround herself with better people."
Michael warned though that dealing with addiction for his daughter is a difficult process. "Recovery involves good judgment, total abstinence and good people. I pray that she's going to get these things now."
MORE ON:
Celebrity Justice
Article continues below advertisement
As RadarOnline.com previously reported Lindsay was ordered to court after failing an alcohol test on June 12.
Judge Sautner ruled this was not in violation of her parole, but warned Lindsay: "What you are guilty of is of poor judgment to have parties on your roof. You are not to have parties, you can have one friend over at a time, plus family members or business associates. You can go on your roof, if probation calls you, you must answer. There is no drug or alcohol testing in effect."