PHOTOS: Arnold Schwarzenegger -- Steering Clear Of The Media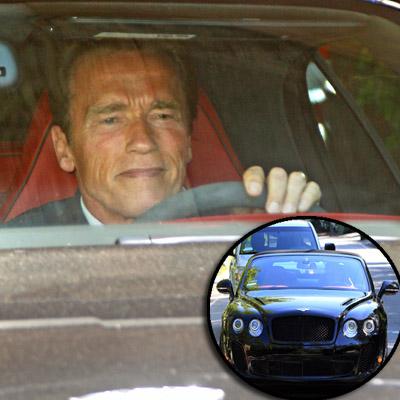 Arnold Schwarzenegger was photographed Tuesday driving around Los Angeles in his black Bentley, but when reporters yelled out questions to him about his love child, he stayed mum.
While Arnold was spotted in L.A., his estranged wife, Maria Shriver, was 2,000 miles away in Chicago. Shriver was among the celebrities who
surprised Oprah Winfrey at the taping of a 2-hour finale extravaganza scheduled to air next week as part of Oprah's talk show swan song.
Article continues below advertisement
Neither Schwarzenegger nor Shriver have spoken publicly about the baby scandal, although both have issue statements -- Arnold expressing his
regret, and Shriver expressing her pain and heartbreak.
RadarOnline.com and Star Magazine -- in a joint investigation -- was first to report the identity of Arnold's former mistress, Mildred Baena,
also known as Patty, who is the mother of the actor's love child who is now 14-years-old.