PHOTOS: Maria Shriver Puts On Brave Face At Oprah Winfrey Gala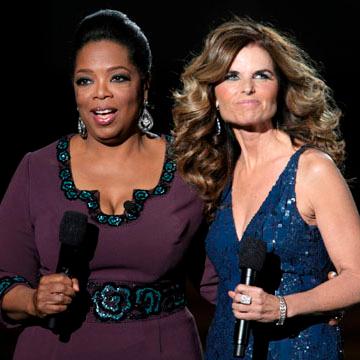 Maria Shriver made her first public appearance alongside pal Oprah Winfrey at Chicago's United Center Tuesday night, for the taping of the talk show legend's second-to-last show.
The public outing was the first for the estranged wife of Arnold Schwarzenegger in the wake of RadarOnline.com and Star magazine's joint investigation that revealed the former California governor fathered a child more than ten years ago with Mildred Baena, the housekeeper at their mansion in the posh Brentwood neighborhood of Los Angeles.
Article continues below advertisement
Shriver, looking beautiful in glimmering blue dress, did not make any direct comments about her situation with Schwarzenegger, but standing along side Winfrey on stage, she seemed to take a jab at Arnold when she
mentioned "the truth."
Speaking to Oprah, Shriver said: "You have shown love, support, wisdom, and most of all," she said. And then with a big pause, she added: "the truth."
Winfrey tightly held her hand as the crowd wildly appaulded.
"Over the years, you have shared that very generous spirit. You've believed in others, so they can believe in themselves."
As we previously reported, Shriver learned the fateful news while dining with two of her daughters, Winfrey, King and Stedman Graham at Chicago's swanky RL restaurant.
"Maria had a very animated, very emotional 15 minute phone call," an insider told RadarOnline.com. "She was very upset and from what she was saying, it was obvious that she was getting some stunning news.
Article continues below advertisement
The daughter of the late Eunice Kennedy Shriver issued a statement on Tuesday, calling the past few weeks "a painful and heartbreaking time.
"As a mother, my concern is for the children. I ask for compassion, respect and privacy as my children and I try to rebuild our lives and heal. I will have no further comment."
The 55-year-old NBC News alum celebrated her 25th wedding anniversary to Schwarzenegger, 63, on April 26; they have four children, ranging in ages from 14 to 21.