PHOTOS & VIDEO: Hollywood's Biggest Stars Surprise Oprah At Finale Taping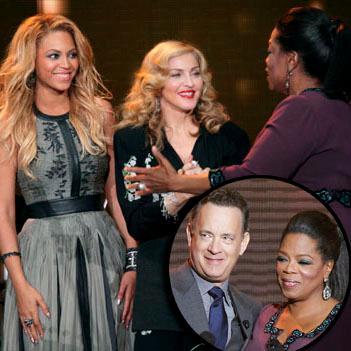 by RadarOnline.com Staff
The star-studded grand finale of The Oprah Winfrey Show, Surprise Oprah! A Farewell Spectacular, was taped Tuesday in Chicago, and RadarOnline.com has the run-down on who fans will see during the two-part episode, airing May 23 and 24.
The Toms -- Cruise and Hanks -- opened the show. Madonna took the stage and said to Oprah, "You look surprised!"
Celebs who will be seen in Part 2 of the episode, RadarOnline.com has learned, are: Beyonce, Jamie Foxx, Stevie Wonder, Jerry Seinfeld, Dr. Oz, Dr. Phil, Rosie O'Donnell, Simon Cowell, Maya Angelou, Gayle King, Nate Berkus, Tyler Perry, Alicia Keys, Aretha Franklin, Usher and even Maria Shriver.
Article continues below advertisement
The stars all gave testimonials to the outgoing TV icon.
On a night the white-hot Chicago Bulls were pre-empted to make room for the gala event (They didn't mind: NBA MVP Derrick Rose joked Oprah "can do whatever she wants"), Michael Jordan told Oprah, "I know you have been a fan of basketball, but I have been a fan of yours for many, many years."
As Oprah fought back tears, the legendary poet Angelou said that a "big-eyed fat girl from Mississippi decided to show the world how to look at itself… how to change itself."
"I can and I will and I shall be Oprah, Oprah, Oprah," Angelou said.
It was such an emotional night, the show's producers shrewdly loaded up the venue with 13,000 boxes of Kleenex tissues in the center, for each audience member.
The fun didn't end there: Madonna said Oprah "fights for things she believes in, even if it makes her unpopular," while Cruise said, "You always had the power, and that is the message you brought into our lives."
Article continues below advertisement
"Oprah Winfrey, because of you women everywhere have graduated to a new level of understanding of who we are, of what we are and most of all who we can be," Beyonce said.
Perhaps the kindest words of all came from Oprah's hunky beau, Stedman Graham, who introduced Franklin at the event.
"It really does amaze me that I get to be around a woman who changes people's lives every day and who also takes her own lunch to work," Graham said. "You know what really is amazing? You have done this, sweetheart, through all of the sacrifices you've made, humility you have and through God's amazing grace."