Exclusive
Schwarzenegger Split: Oprah Wants Maria Shriver For Her OWN!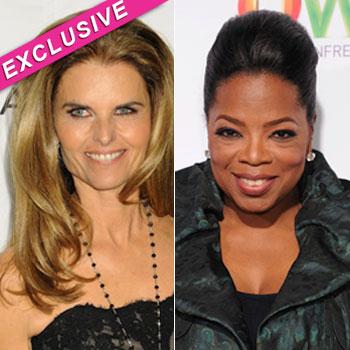 Former-TV-news-personality-turned-political-wife Maria Shriver may be losing her husband of 25 years, action hero Arnold Schwarzenegger, but she won't be out-of-work for long.
Talk queen Oprah Winfrey, one of Shriver's BFFs, already approached the former First Lady of California to appear on OWN, Oprah's fledgling cable network, RadarOnline.com has learned.
Other networks also have reached out to Shriver.
Article continues below advertisement
One of the Kennedy clan's most recognizable faces, Shriver first met Winfrey when both were beginning their careers in journalism then formed a tight friendship.
"Oprah approached Maria several months ago about getting involved at OWN," a source close to Shriver said. "A talk show featuring Maria as the sole host was discussed. But now that Maria has formally separated from Arnold, Oprah is on a full court press to lock Maria up."
Oprah is facing some stiff competition, the spy added: "Maria is looking at make a comeback and she is getting tons of offers from the major networks. Maria's children are almost all grown up, her youngest son is 15. Its not a matter of if Maria will return to television, but when."
The Emmy Award-winning Shriver, 56, was a correspondent for Dateline NBC until 2003. She went on leave to avoid the appearance of conflicts of interest when Schwarzenegger announced his run for governor of California. She quit when he won.