VIDEO: Sarah Ferguson Calls Royal Wedding Snub 'So Difficult'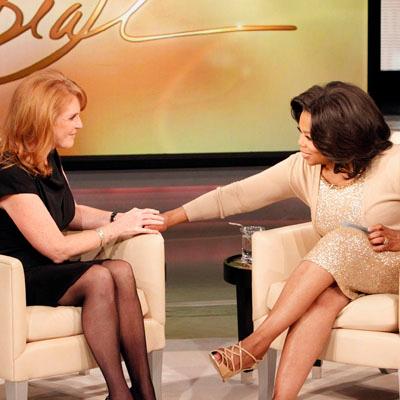 This Fergie doesn't have a black eye, but rather a bruised ego.
The Duchess of York Sarah Ferguson breaks her silence to Oprah Winfrey on Wednesday's edition of Oprah, talking about the humiliation she felt being left off the guest list at last month's royal wedding.
"It was so difficult, because I wanted to be there with my girls and to and to be getting them dressed and to go as a family," she said of the snub. (Her daughters with ex-husband Prince Andrew, Princess Beatrice and Princess Eugenie, were both front-and-center at the lavish affair.)
Article continues below advertisement
Ferguson said while the wedding was going on, she was in the jungles of Thailand chatting on the phone with her ex husband, who gave her a morale boost.
"When Andrew went with the girls, we were talking all morning and he was saying, 'It's okay. Just remember we had such a good day. Our wedding was so perfect,'" she said.
As RadarOnline.com previously reported, the Duchess of York was embroiled in a scandal last year, caught on tape negotiating a shady deal (with an undercover reporter) in which she tried to sell business access to Prince Andrew.
Some pundits feel the incident may have been the last straw for Ferguson in the eyes of the royal family.
As for Ferguson?
The Middleton Bikini Babes! Who Is Sexier?
"I felt that I ostracized myself by my behavior, by the past, by living with all the regrets of my mistakes," the red-headed beauty said. "That I sort of wore a hair shirt and beat myself up most of the day thinking and regretting, why did I make such a mistake?"
She said the late Princess Diana, who she was very close to, would have been beaming as her son tied the knot.
"I really love the feeling that sort of Diana and I both weren't there. But I'm here to say how proud she would have been!"