Oprah Not Happy With Sarah Ferguson's Show, Orders Reshoots & Delays Premiere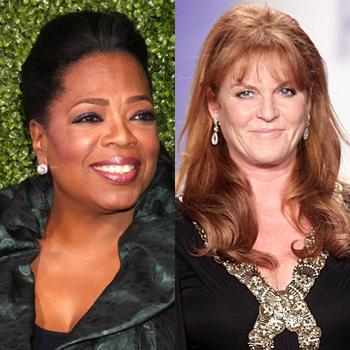 The TV show that was supposed to be Sarah Ferguson's big comeback has been delayed at OWN, RadarOnline.com has learned.
Oprah Winfrey, who is extremely hands-on with every program her new network has launched, is said to have found the footage disappointing in how little it revealed about the Duchess of York.
"Oprah isn't happy with the show. She found parts of it boring," a source tells the UK's Mail on Sunday.
Article continues below advertisement
Last September, Oprah announced that Finding Sarah, a six-part series, would premiere in the spring. While denying that Oprah thinks the show is "boring," a network rep did confirm it has been put back. "As of now we're anticipating that it will premiere in the summer," the spokesperson said.
Sarah and Prince Andrew divorced nearly 15 years ago following the publication of photos of a topless duchess having her toes sucked by another man. She's attempted numerous careers since then, including being a celebrity spokeswoman for Weight Watchers and writing children's books.
But she was admittedly flat broke last year when she was caught in an on-camera sting trying to sell a businessman access to her former husband in return for $500,000.
That's when Oprah seemingly came to her rescue with an offer for a TV series that was intended to rehabilitate Sarah's image.
If and when the show sees air, it will be after the April 29 wedding of Sarah's nephew Prince William to Kate Middleton.
Article continues below advertisement
At least she has some good news on that front. Sarah and her two daughters -- William's cousins -- are reportedly being invited to the ceremony.
Despite reports that Winfrey is unhappy with the show, a spokesperson for OWN says -- not true.
In a statement sent Monday to RadarOnline.com a spokesperson for the network said: "Please note that the rumor is groundless and absolutely not true. OWN is happy with the production of the show "Finding Sarah" and we anticipate a summer premiere. "