Exclusive
WORLD EXCLUSIVE: Arnold's Mistress Threatened To Go Public Four Weeks Ago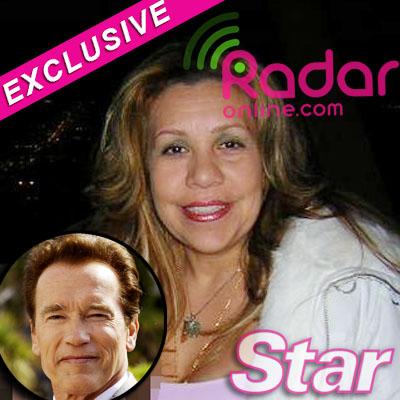 Senior Executive Editor
Star Magazine
RadarOnline.com Staff Reporter
The mother of Arnold Schwarzenegger's love child threatened to go public with sordid details of their illicit affair -- all because the Governator TERMINATED her employment.
A blockbuster RadarOnline.com and Star Magazine joint investigation has uncovered the real reason behind the former California's governor's admission that he fathered a son out of wedlock -- it was because a shameful Schwarzenegger fired his mistress from her job as a housekeeper in a desperate attempt to save his marriage to wife Maria Shriver.
Article continues below advertisement
The woman, Mildred Patricia Baena, known as "Patty," was identified for the first time in our world exclusive report.
To protect his privacy, RadarOnline.com is not publishing the teenager's name.
"Mildred was furious that the father of her 14-year-old son would callously fire her from her job after decades of loyal service," one of the Mildred's closest confidantes told RadarOnline.com, speaking on the condition of anonymity.
"She admitted to friends how she finally wanted to tell the secret -- that she had kept faithfully for 14 years -- to the world."
Mildred even entertained the idea of coming forward and speaking with a magazine, the source said.
"It was a nuclear blow-up between her and Arnold," said the pal.
It's not known if the Mildred's tell-all plan was ever executed or whether the threat prompted 63-year-old Schwarzenegger's disclosure about his illegitimate child.
Article continues below advertisement
What's clear, however, is that this revelation is in direct contradiction to claims that the ex-maid 'retired' in January after two decades working at the Schwarzenegger/Shriver estate in Brentwood, California.
"Mildred did not retire... she was working for Arnold and Maria until about four weeks ago," a source told RadarOnline.com.
"But all of a sudden and out of nowhere, she was told there was no longer work for her."