Patrick Schwarzenegger: 'Some Days You Feel Like Sh*t'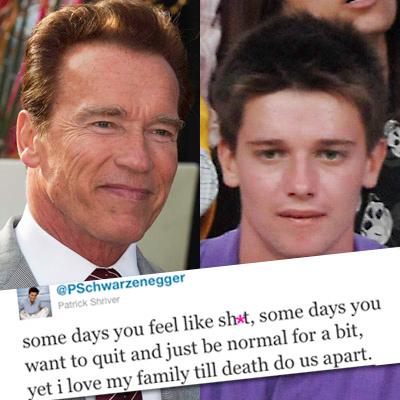 Shortly after his mother, Maria Shriver, expressed her own personal heartache at news of her husband's secret love child, their son Patrick is speaking out -- via Twitter.
On Tuesday, 17-year-old Patrick Schwarzenegger tweeted: "Some days you feel like sh*t, some days you want to quit and just be normal for a bit, yet I love my family till death do us apart. #family"
Patrick is one of the couple's four children. He has two older sisters -- Katherine, 21, and Christina, 19, and a younger brother, Christopher, 13.
Article continues below advertisement
As RadarOnline.com previously reported, Schwarzenegger, 63, confirmed to the Los Angeles Times on Monday that he had fathered a child with a longtime household staffer more than a decade ago. In a statement with the paper, he also expressed his profound regret.
This isn't the first time Patrick has taken to Twitter about his family's personal woes. Exactly a week ago, following the news that his parents' had split after 25 years of marriage, Patrick tweeted: "Appreciate all your messages. Small speed bump in life, luckily we own hummers, we will cruise right over it. All will be okay. #peace."