Estella Warren Was Crazed & Slapped Me, Says Man Whose Car She Hit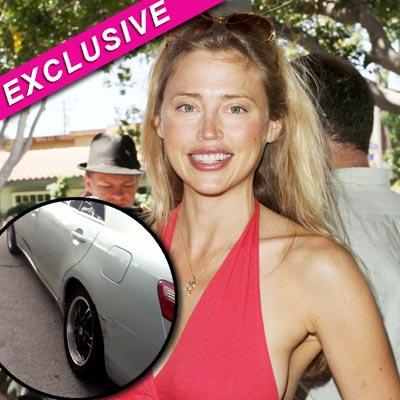 RadarOnline.com Staff Reporter
Actress Estella Warren lashed out at one of the owners of a car she hit after she tried to flee the scene of her DUI accident, the man exclusively tells RadarOnline.com.
Meanwhile, RadarOnline.com has exclusive video of the car Warren allegedly struck with her Prius as she tried to drive home after a drunken night out.
The silver car was badly scraped and dented along the left side, and the rear left side wheel was also bashed in.
Article continues below advertisement
The car owner declined to appear on camera Tuesday, but in an exclusive interview, he told RadarOnline.com: "I was in my house when I heard a bang after 11pm, and when I went outside I saw this woman backing-out after she struck my car.
"I yelled at her, but she drove off and hit my car again as she carried on down the street. I immediately called the police, and when I went outside I could see her car in the distance.
EXCLUSIVE DOCUMENT: Read The Booking Report
"I believe she hit at least two other cars before she stopped. When I approached her she was obviously drunk and acting crazy.
"A few more residents approached her, but she started yelling and accused us of stealing things from her.
"When I told her she had to wait for the police to arrive she lashed out at me and started to 'girl-slap' me on my chest and arms.
Article continues below advertisement
"We tried to calm her down, but she abandoned her car and started walking away to her house which is on an adjacent street to where she hit my car.
"I followed her, and the police arrived and arrested her in the street. She started arguing with them too, and she struck one of the officers.
"To be honest, I felt sorry for her because she was obviously really wasted and would not listen to anybody, but she caused damage to several cars.
"Luckily, nobody was badly hurt because she should not have been driving in that state."
Watch the video on RadarOnline.com
As RadarOnline.com previously reported, Warren, 32, was arrested around 11:30 pm PT Monday for suspicion of a DUI after she failed a sobriety test.
When the police took her to be booked, the actress allegedly wiggled out of her handcuffs and tried to flee the police station via the back door before she was apprehended again.
Article continues below advertisement
Warren could be charged with DUI, battery on a police officer, misdemeanor hit and run, and felony escape.
Her bail has been set at $100,000. In accordance with LAPD policy, Warren's mug shot will not be released.
Warren, a native of Canada, has a background as a synchronized swimmer, having trained at the Etobicoke Olympium in Etobicoke, Toronto.
She got her break into show business when she was spotted by a talent scout, which eventually led her to be inked by a high-brow New York modeling firm.
From there, the beauty appeared in magazines such as Sports Illustrated, Vogue, Vanity Fair and Maxim, topping the men's mag's Hot 100 Babe List in 2000.
Her film career includes credits in 2001's Planet of the Apes, 2003's The Cooler and 2003's Kangaroo Jack.
radar_embed service=5min.com src=" http://pshared.5min.com/Scripts/PlayerSeed.js?sid=1126&width=665&height=360&playList=517712881&sequential=1&shuffle=0"