Exclusive
EXCLUSIVE INTERVIEW: Actress Rosa Blasi Accuses Her NFL Star Ex-Husband Jim Finn Of Using Hookers & Drugs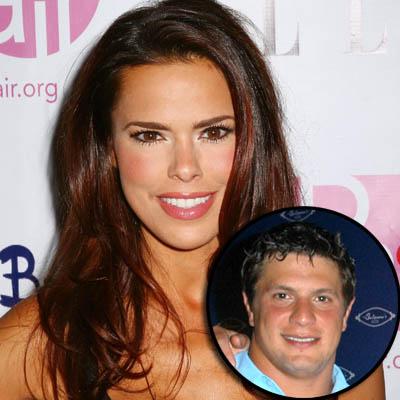 NFL star Jim Finn had a penchant for Craisglist hookers, a reliance of prescription drugs and once bedded his wife's best friend on their own wedding day -- this according to startling new claims being made by his ex-wife.
In an exclusive interview with RadarOnline.com, actress and author Rosa Blasi talks about her controversial new book Jock Itch: The Misadventures Of A Retired Jersey Chaser, and reveals why her ex-husband, the former Indianapolis Colts and New York Giants full back, is up in arms over it.
Article continues below advertisement
"I knew he was into prescription drugs and gambling when we were together," she said about her ex and baby daddy, who she divorced in 2008 after four years of marriage.
"But I didn't find out about the other stuff, including his Craiglist hookers until after we separated.
"He also slept with my best friend on our wedding day. That was news to me too."
Blasi -- who starred in the long-running Lifetime series Strong Medicine and is now a pivotal player in ABC Family's Make It Or Break It -- gives a comedic journey through her bedroom history with Finn and other pro athletes, whose identities she thinly disguises.
"It's all fair game," she says of the allegations she makes in the book. "Sure I changed the names but it doesn't take a scientist to work out who I'm talking about."
She's not kidding. Jim Finn is Jim Fish in the book and there are photos of him, with just his eyes blacked out.
"People are p***** about it but at the end of the day the joke is on me," Rosa says. "It's a very self deprecating read and people who pick it up will realize it's not bitter because the person who is made the biggest ass of is me. I got myself into some stupid situations and made mistakes, so why not have a joke about them along the way."
Article continues below advertisement
One person who isn't laughing however is Finn. "Of course he has reacted to this. He isn't happy," said Blasi. "Nothing surprises me with him. This guy will sue a parakeet for squawking. But I have proof of all the things I claim and he isn't saying that any of this stuff isn't true."
Blasi now says she is clean of athletes and wouldn't date one again in a million years. But that has not stopped her dishing the dirt on some of her more memorable hook-ups.
Rosa details the hockey player -- whose body part she mistook for a rolling pin -- and even goes as far as to call A-Rod an "A-hole."
Sexy Stars Caught In Cheating Scandals
"I guarantee you or someone you know has made a bad decision about dating. Whether you are a model or a mom, you will be able to relate to this in some way."
Jock Itch: The Misadventures Of A Retired Jersey Chaser was published by HarperCollins.