PHOTOS: Bikini! Sexy Stars Involved In Cheating Scandals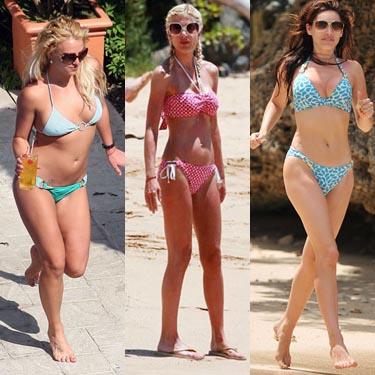 Whether they cheated, got cheated on or was cheated with, we may never know for sure, but one thing is undeniable -- these stars who have been involved in the most-talked about sex scandalous of all times have the hottest bodies in Hollywood! RadarOnline.com has photos of the sexiest sex scandal babes -- stripped down and showing off their bodies in skimpy swimsuits. Click the next sentence to see sexy stars who have been involved in cheating scandals.
Article continues below advertisement
Click Here To See Sexy Stars Involved In Cheating Scandals In Their Bikinis
Tiger Woods forever tarnished his squeaky-clean image -- and his marriage to his bikini babe wife Elin Nordegren -- after his several scandalous affairs were exposed. Though the pro-Golfer apologized to the world as well as Elin, the cheated beauty moved on with her life, enrolling in college and enjoying the single life. When you check out Elin in her skimpy bikini, you will find it hard to believe that Tiger strayed from that sizzling hot bod.
Click Here To See Elin Nordegren In Her Skimpy Bikini
Country cutie LeAnn Rimes married dancer Dean Sheremet at a young age, and the two seemed to be enjoying matrimonial bliss, until the singer got caught canoodling with her hunky (and married!) costar Eddie Cibrian. LeAnn and Eddie are still together, and are planning on heading to the alter sometime soon.
Article continues below advertisement
At the Academy Awards in 2010, Sandra Bullock gushed about her reformed bad boy hubby Jesse James. The couple, who had been married about five years and had secretly adopted a child together seemed to be crazy in love, so when the bombshell dropped that Sandra wasn't Jesse's only girl, everyone, including Sandra herself, was shocked. While Jesse announced his engagement to Kat Von D less than a year later, Sandra is enjoying the sexy and single life!
Click Here To See Sandra Bullock's Sexy And Single Bikini Bod
Halle Berry is no stranger to scandal. Back in 2002, the smoking hot bigscreen babe found out that her R&B hubby Eric Benet was cheating on her. Though the crooner checked into sex rehab and Halle stood by her man for a few years, the couple divorced in 2005.
Click Here To See Halle Berry's Bombshell Bikini Bod
And of course, the Brad Pitt, Jennifer Aniston and Angelina Jolie love triangle is the alleged sex scandal that will never go away. After photographs surfaced of Brad getting a little too close to Angelina on the set of Mr. & Mrs. Smith, rumors of an affair circled ferociously around Hollywood, and they only intensified when Brad and Jen separated shortly thereafter. Though Brangelina deny the rumors to this day, Jen has insinuated many times that it did, in fact, happen. What we know is true? Angelina Jolie and Jennifer Aniston have banging bikini bod!