Weekly Royal Wedding Roundup: Abba, Cake And Couture As Kate 'Flips Out'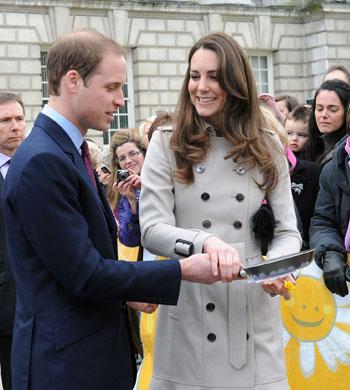 The 'wedding of the century' is just seven weeks away and as Kate Middleton and Prince William prepare to walk down the aisle RadarOnline.com is bringing you all the royal news from the week gone by.
While many brides morph into bridezillas as they try to finalize details for their big day, the only thing the future princess is flipping out over, is pancakes.
She got into the spirit of Fat Tuesday (or Shrove Tuesday as it's known over the pond) during a trip to Belfast, Northern Ireland and tossed some pancakes for hundreds of people who had gathered to catch a glimpse of her and her husband-to-be.
Article continues below advertisement
But the couple's real sweet celebration was the news that they have crowned the perfect pastry master to bake their all important wedding cake.
Chefs from the exclusive Welsh National Culinary Team - fitting since the couple live in Anglesey in North Wales, where William is stationed with the Royal Air Force - will design and bake the masterpiece. But don't expect boring cream and white.
"We haven't yet finalized the decoration," said Graham Tinsley, the culinary team's manager. "But it will be traditionally Welsh and there's a good chance that harps, dragons and the national flag will be represented."
It was also announced that have picked an 80's theme for their reception - meaning they can dance off all those extra cake induced calories to their soulful selection of Abba, Duran Duran and Culture Club.
And it's not the only music they've been making decisions about.
Earlier in the week Kate and Wills were spotted visiting Westminster Abbey, with the father-of-the-bride, to put the finishing touches to the all important ceremony soundtrack.
Article continues below advertisement
Once inside the venue they listened to a full orchestra and a 14-boy choir perform musical pieces they are considering for the backdrop to their nuptuals.
And while the Royals always try to be picture perfect under the scrutiny of the public eye, behind closed doors at the reception, best man, Prince Harry is said to be planning to goad his big brother.
According to British newspaper The Sun, Harry already has a plethora of jokes ready including one particularly 'hair raising' quip.
"Harry has taken a lot of stick from William for being a ginger," a source said. "He wants to point out that while his hair may be red, there is plenty of it. It is a boast Wills can no longer make."
But if this week's rumors of Alexander McQueen's designer Sarah Burton taking on the task of designing the wedding dress are true, the Prince won't need to worry about anyone looking at his hair line as all eyes will undoubtedly be on the blushing bride.