PHOTOS: Prince William & Kate Middleton's Fairy-Tale Wedding Carriage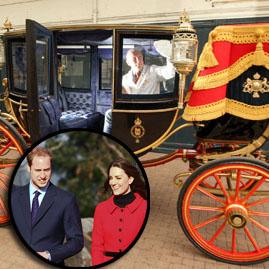 It's a carriage fit for Cinderella -- or for a prince and his princess.
With only 38 days before the Royal Wedding, officials at St. James Palace have released new details about the royal transportation arrangements for the big day.
Blushing bride-to-be Kate Middleton will arrive at Westminster Abbey -- where the ceremony will be held -- in the same Rolls-Royce that was damaged when Prince Charles and Camilla were attacked by protesters this past December, but it will be repaired and in tip-top shape. Royal brides traditionally arrive at Westminster in horse-drawn carriages, but Kate has chosen to arrive by car.
Article continues below advertisement
Is Kate Marrying William Or Harry? Royal Wedding Mug Mess-Up!
After the wedding ceremony at Westminster Abbey, Price William and Middleton will leave the famed church in a horse-drawn, open-topped 1902 State Landau carriage, which will travel along the processional route to Buckingham Palace. The carriage is the same one Prince Charles used for his wedding to Princess Diana in 1981; it was built for King Edward VII's coronation.
As for the wedding party, they will leave the ceremony in five horse-drawn carriages. After Prince William and Kate, the next carriage will carry best man Prince Harry and Kate's sister/maid of honor Pippa Middleton, plus the wedding party. The last two carriages will carry Queen Elizabeth II and her husband Prince Philip, followed by a carriage carrying Prince Charles, Camilla and Kate's parents -- Michael and Carole Middleton.
Article continues below advertisement